Best resorts in Bangalore near me with Outdoor Activities.
There is a lot of debate around stress and how it affects all aspects of our lives more than we think. It translates in to our personal and shows up into our professional life. It is a well-known problem world-over. People report they aren't able to sleep or focus on important things. The work piles up at the end of the day, amounting to more stress. Bangalore is a city of verdant green areas. You can easily make your way to the best resorts in Bangalore near you and take some time out to restore peace and get ready for the coming week.
We need time to recharge. Whether we accept it or not. You will hear that from a lot of speakers and clinical psychologists to plan your day in advance, so you'd know what you are getting into well before time. It is annoying at first. It may not even make sense. You'd lose the sense of purpose or motivation to plan your day in advance because there are days that don't look like other days with a busy schedule. Yet, you must not break the ritual. Make it a point to write down what your day will look like, so you will have control over your tomorrow.
There are of course chances of accomplishing nothing or even outperforming your list. There are chances that tasks were nothing as you planned in your list. The chances of surprises make the whole act of documenting so interesting. Then, we have a sense of purpose. A purpose to write down and follow, and always leave room for astonishments. We are ready for surprises, and on top of that curious to know what the future holds. There is a saying, "if you want to make God laugh, tell him your plans."
In the greater scheme of things, you might not understand but planning for the near future has positive outcomes, and the scope of disappointment gets lesser as we approach towards our goals. Stress, on the other hand, will always be there. What we need to realize is that impermanence is the only consistent thing. The stronger your plans are to attain the goals of the near future, the more powerful is the impact on your day-to-day life.
Planning ahead also has some benefits, such as:
Low stress
Things are in your control
You know what you are getting into
One realizes their true potential
You have time to do other things
You sleep well
There is less conflict
Tasks seem easier
Your goals look achievable
Every day you wake up with a purpose
Sometimes purpose becomes the most important thing. Even more than passion. Purpose is the driving factor for the most successful people in the world. Passion only gets you to start. Motivation gets the wheel spinning. Purpose keeps you going. Having a purpose gets you in the driving seat of your career, your relationships, your emotional growth as an individual. It helps make the friends you need. A simple act of planning your day in advance can fill your life with meaning and purpose.
Years later, when you sit on your window with a cup of hot cocoa, you will realize there are things that need planning, and there are things you must leave room for, and those are things that stay imprinted in our memories. The time when you visited one of the best resorts near you in Bangalore to fulfill that one friend's wish to go away for a weekend, or your first family outing after the lockdown.
The way you and your friends recuperated and on the level you reconnected with your family members and the child within you. It will determine your relationship with your memories for the rest of your lives. Rightly so, you are on the sunny side of the memories if you spend time with people you adore and care about, in a place driveable resort with outdoor activities and a swimming pool. Let's take a look at some of the best resorts near you in Bangalore with adventure activities. Your family will absolutely love it.
The Gari Resort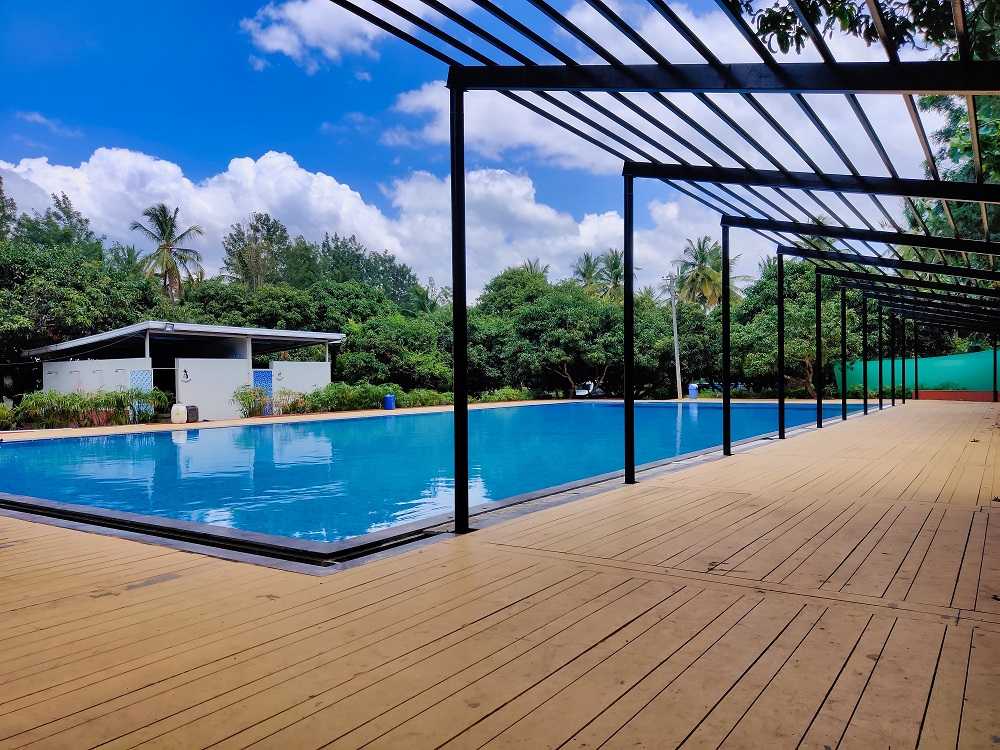 Address: No 211 Banandur village, Ittmadu Post, Bidadi, Karnataka – 562109
Pet Friendly: Yes
Strength: 100 + patrons.
Alcohol: Not available.
We have reached the time of the year when everything related to nature blossoms and retains its original beauty. Why should people stay left out. Since we are connected to the nature so deeply, we deserve the same treatment as the plants, trees, crops, and river streams. The Gari Resort is one of the best resorts in Bangalore to enjoy your time with nature in its truest forms.
The display of magnificent scenery, diverse adventure and interactive activities in The Gari Resort makes your stay scenic and wonderful, no matter the event you are visiting the property for. To experience the beauty of the place, book yourself a tent. It will make the nighttime more interesting and keep you on the edge. The facility will also ensure you are offered a complimentary dinner along with a campfire by the tent.
The Gari Resort spreads over a huge natural land which has been only ornamented with recreational activities to keep you buys all day long. Cap the day with some games that India loves to play and enjoy watching all the time. Games like cricket, that were the only affirmative thing happened to us in 2020, is now open for patrons to enjoy at full swing.
Camping Package.
Price: Rs. 2,128 per person including GST.
Package includes:

Breakfast, Lunch, and Dinner. Camp fire.
Magic show and mind reading (happens only on weekends).
Cricket (Chargeable at Rs. 699 per hour on Fridays and Saturdays. On other days, it is free)

Duration: 07 pm to 10:30 pm

Pottery Workshops (happens only on Fridays and Saturdays)
Timings: 1 pm to 11 am

Note: If you are a group of 20 or more people, you can avail a 10% discount.
Floodlight games for Rs. 699 per hour on Fridays and Saturdays between 07 pm to 10:30 pm.
Activities.
Zip line
Pipe Bridge
Burma Bridge
Wood Cross
PG Ladder
Commander walk
Multi Vine
ATV Quad Bike Ride
Unstoppable Cross Bridge
Wood Cross
Single line Bridge
Burma Bucket
Triangle
Commando Work
Treat yourself with a horse-ride in The Gari Resort. It will surely be the best experience you will have all year. The horses are well-trained and fed, and not marred in any ways.
Also read: Five Nature Resorts within 50 kms from Bangalore.
The Cassava Retreat.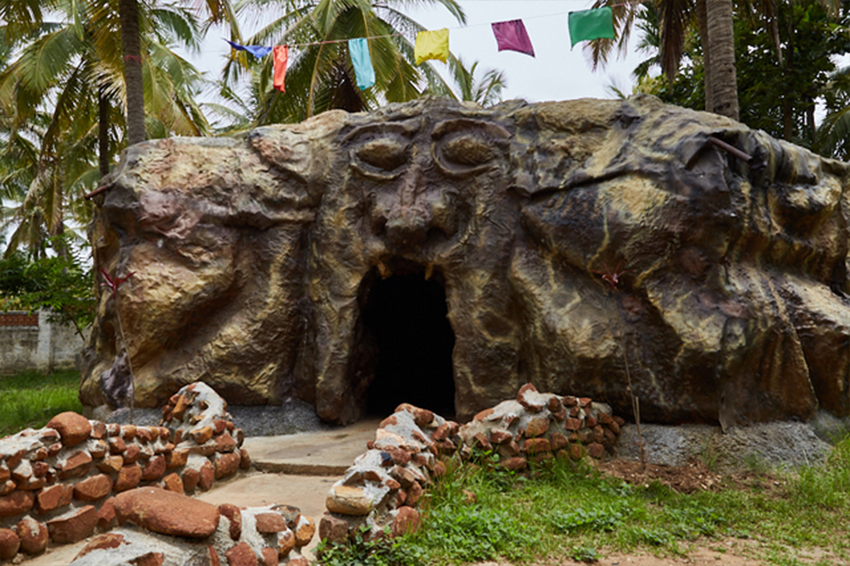 Address: O B Chudanahally Road, Kanakapura Road,Vaderahalli, Near Art Of Living Bengaluru, 560062
Pet Friendly: Yes
Strength: 100 + patrons.
Alcohol: Not available inside the premises.
We often risk a lot when we plan something for a group the size of a small town in Iceland. It is hard to make everyone happy with your planning and having fun as the highly impressed person in the group. Not everybody will be happy with your decision. Everybody's idea of fun is different from others. You like quiet. Some like to make the most out of it by going all out. While some just wish to stay in the room until the food is ready.
What you can surely ensure in one of the budget resorts in Bangalore is that most of them are having the time they expected out of a team or a family outing and get them to The Cassava Retreat. The property is for people who have varying needs. If you aim at getting to know your colleagues better, this is the perfect weekend getaway to get involved in team-building activities and adventure games.
If your need is to just lay by the pool with your kids, you can indeed jump in the pool for however long you want. Introduce your kids to water, they might build interest in swimming. It is a great way to stay healthy. If you are a lone traveller, visiting the city for the first time, The Cassava Retreat is a must-visit. It offers a great scenic introduction to Bangalore city and gets you ready for the rest of the trip. You can then start hitch-hiking to the rest of the places in the city and visit places that you may not see as a tourist.
Swing by the pool, dance under the rain dance, or play adventure games, there is a lot to cover in a day. The outdoor activities are just not about playing sports or recreational activities. An outdoor activity in Bangalore, especially, in a city like Bangalore could also mean going out in fresh air and letting the morning dew rest on our skin, even for a bit. Read to know about the different packages and services.
Packages.
Camping Package:

Price: Rs. 1100

Price includes:
Access to the swimming pool.
Rain Dance.
Use of standard facilities of the resort.
Seven adventure activities.
Six low rope activities.
Archery.

Timing: 01 pm to 11 am.

Luxury A/C rooms:

Price: Rs. 2000 per person.
Price includes:

Access to the swimming pool.
Rain Dance.
Use of standard facilities of the resort.
Seven adventure activities.
Six low rope activities.
Archery.
Lunch, Hi-tea, and
Dinner.

Timing: 1 pm to 11 am.

Non A/C rooms:
Price: Rs. 1900 per person.

Price includes:
Access to the swimming pool.
Rain Dance.
Use of standard facilities of the resort.
Seven adventure activities.
Six low rope activities.
Archery.

Timing: 01 pm to 11 am.
Adventure Activities.
Triangle
Commando Work
Pipe Bridge
Burma Bridge
Wood Cross
PG Ladder
Unstoppable Cross Bridge
Single line Bridge
Zip line
Facilities.
Swimming pool
Indoor Games
Outdoor Badminton
Table Tennis
Kids play area
Bon Fire
Rain Dance
The place is dressed at its best all the time. Group discounts are applied for early bird bookings, and more than 20 people.
Chukki Mane
Address: Javanagahalli, Malavalli Taluk, Mandya District, Karnataka – 571417
Pet Friendly: Yes
Strength: 100+ people
Chukki Mane is one of the best resorts in Bangalore for outings with your loved ones. Adorned with a Madikere-type of architecture and recognized by the Department of Karnataka Tourism, the eco-sustainability resorts puts all its counterparts to rethink their style of hospitality and amenities.
It specializes in Family outing, friends reunion, engagements, wedding functions, and birthday parties at reasonable tariffs. Above all, it is a fully vegetarian resort which could be on top of the preference list for many patrons. It is also said that the land of the property was bare originally, but as soon as the owners of the property started practicing agroforestry, the landscape improved manifolds and soon the idea of eco-sustainability arrived the people in charge and use it as a primary attraction for visitors.
Chukki stands for Stars, and Mane stands for home. So, the name literally means, House of Stars. It is surrounded with verdant green vegetation all around and birds flock on to trees from the neighboring forests. The place bathes of fresh air and brings you close to nature so much so that you can hear the mystical calmness present in the nature.
There is ample accommodation for everyone looking for a nice weekend away from the city. The sustainable adobe can hold a great deal of patrons. Since the name translates to House of Stars, make it a point to stay in a tent house during your visit. It will be worth the experience.
Get more information on the resort and its facilities, here.
Wild Valley
Address: 23/45, Vaddarapalya, Giri Gowdana Dodi post, Kanakapura Rd, near Nataraja Gurukula, Bengaluru, Karnataka 560082
Pet Friendly: Yes
Strength: 100 + patrons.
Alcohol: Not available inside the premises.
Zipline
Rappelling
Russian Ladder
Jumaring
Rock-Climbing
Rope Courses
Trekking
Bonfire
Rain dance
Indoor Games
Outdoor Gamers
Swimming Pool
Paintball
Target Shooting
Archery
Team Building
Wild Valley is a place in Bangalore that you should visit at least once along with your friends and family if you wish to try to be in the arms of nature, with a safety harness. Wild Valley is a top of a mountain and enticed with all kinds of adventure activities out of which the most interesting being Rappelling.
To know more about one of the best resorts in Bangalore near you with outdoor activities, click here.