Camping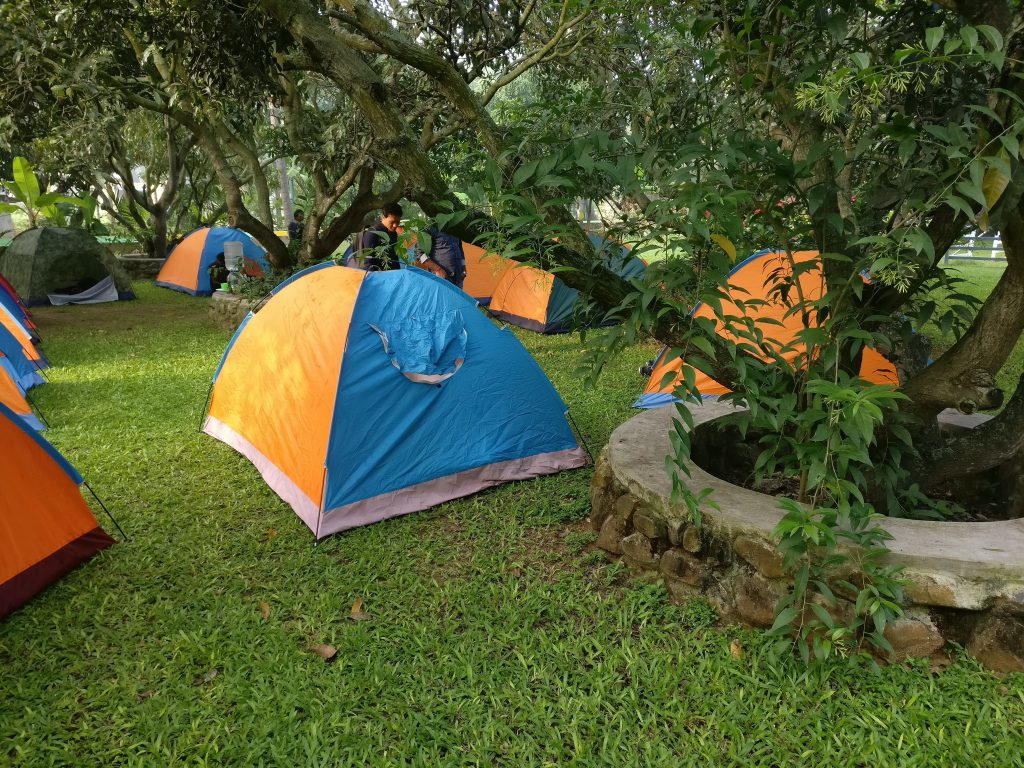 What is Camping?
In today's busy lives, hustle-bustle of everyday lives, every aspect be it individuals, families, friends including organisations look for options to take a break away from the regular life for leisure and recreation. There are innumerable rejuvenation options available depending on one's budget, purpose, group size, time availability etc. One of the significant rejuvenation activities that is trending today is camping, which thankfully has no age bar. Camping involves a range of activities and approaches to outdoor accommodation.
What is Camping
Camping is one such recreational activity which is generally group based. Camping can be organised by families, friends or even by an organisation as a part of team outing.  Camping is an outdoor activity involving overnight stays away from home in a shelter, such as a tent or a recreational vehicle. Typically participants leave developed areas to spend time outdoors in more natural ones in pursuit of activities providing them enjoyment. In common parlance camping trip involves toughing it out in tents and at the mercy of Mother Nature.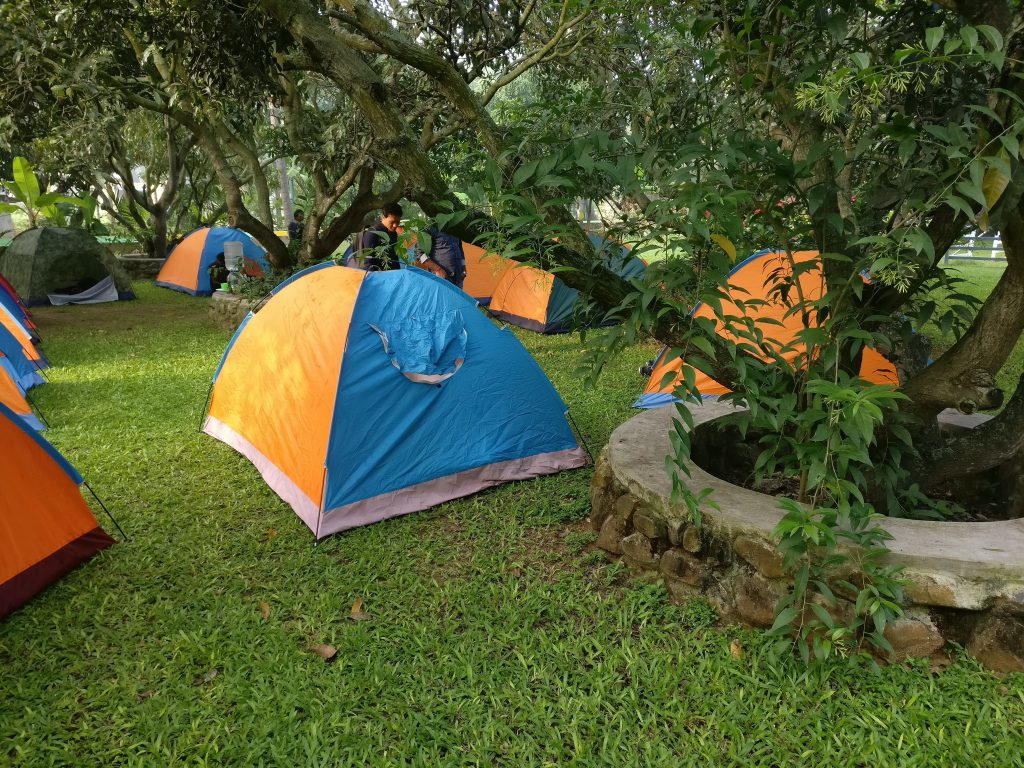 Camping is mostly combined with hiking / trekking, fishing, white-water rafting and kayaking, giving one the ultimate outdoors experience. One can pursue it at an individual capacity, but is often done in the company of friends, family or colleagues. It is a wonderful leisure pursuit that can be relished by any age group. Camping is also an easy alternative for those attending music festivals or sports gatherings. Many a times camping is also organised by various organisations as a part of team outing for recreation, team bonding or as perks to the employees, to motivate them and for a healthy work environment.
Camping offers some of the most affordable options, when it comes to planning a trip outdoors. Not only that, but one is closer to nature from the moment one wakes up to the moment one dozes off, mostly after a welcoming campfire together with sumptuous food. Camping is proven to have an impact on reducing stress and contributes very positively to emotional and physical health. Who would not want to camp when it offers an advantage to be embedded in nature with easy access and more time to be able to explore. Nowadays, more and more people are expressing fascination in camping in all of its forms – from back-country to adventure camping and glamping.
History of Camping
Camping as a recreational activity became popular among elites in the early 20th century. With time, it grew in popularity among other socio-economic classes. Modern campers frequent publicly owned natural resources such as national and state parks, wilderness areas, and commercial campgrounds. It is evident how camping has developed such widespread appeal over the centuries – leaving modern society and its headaches behind to relax in the immutable ambiance in the lap of nature which is a lifetime dream for many people. With the opportunity to submit oneself to the pristine charm of the earth, the activity is uniquely equipped to reach unparalleled heights in predominance.
Types of Camping
Depending on your preferences, purpose and comforts, the most popular variants of camping in India may be categorized as under:-
Tent Camping: consists of finding the right campsite, placing your tent, and spending your time in it for one or multiple nights.
Backpacking Camping: consists of walking during the day with all of your gear and (most often) a lightweight tent on your back, sleeping outside in a tent or a hammock when you find the right place, and most often moving on the next day.
Glamping: is a form of camping involving accommodation and facilities more luxurious than those associated with traditional camping, like camping in resorts etc.
Survivalist Camping: where during camping, one also needs to learn and acquire all the skills required to survive in different outdoor situations.
Canoe / Kayak Camping: is similar to backpacking when one can get more freedom and lots of advantages of travelling by water.
RV & Van Camping: consists of going camping in a recreation vehicle which gives one the opportunity to enjoy fun outdoor destinations, with most of the comforts of home.
Advantages of Camping
With all options of camping available, a recreation option which can be availed by the young and the old, camping has many advantages as enlisted below:-
Stress Reduction: In the midst of nature, away from the routine life, the outcome of this type of setting is stress reduction and relaxation like one cannot find anywhere else, which is not only a boon for the individuals, family and friend groups but also motivate the employees for better productivity
Fresh Air: Lungs full of fresh air in the lap of nature help one rejuvenate, feel healthy and is a welcome option from a regular urban life
Relationship Building: Camping forges to build and strengthen relationships, be it with friends, family, colleagues or bosses
Physical Fitness: In camping, one has to engage in physical activity, it being mandatory, giving the health a major boost
Lack of Alarm Clocks: During camping, the only alarm clocks you have are the sun and the chirping of birds and waking up with nature rather than an alarm clock and is a worthwhile experience
Unplugging: Camping is a great chance for everyone to unplug and get away from one's computers, tablets or televisions and discover that there is so much to do that do not require electronics
Great Food: Food just tastes better when prepared in the outdoors so planning a great menu before a camping trip is a heads up
Connection with Nature: During camping, one gets an enticing experience to get in touch with nature, encounter wildlife and see the stars away from the bright lights of the big city
Development of New Skills: One is bound to develop new skills while camping, which are rare during the course of our regular busy schedules, as everyone on the trip will contribute and it is a great chance to learn new things
Educational Opportunities: For kids, time spent camping is time spent learning, which are extremely valuable, as they learn new things like fishing, cooking, hiking, tying knots, fire-starting, safety, first aid and the likes
Growth of Confidence: One of the benefits of camping for youth is that it allows them to learn independence in a secure and controlled environment, which help them become more confident as they learn new things and have first-time experiences
Increases Employee Engagement: In corporate camping, employees can book their own site, plan their own itinerary and bring their own supplies, which increase team engagement and boost their morale, as it requires more of a commitment
Builds Team Spirit: Camping help foster strong team spirit where colleagues learn that the only way forward is by helping each other
Gives Management an Insight: Camping along with the activities involved have been acknowledged as a powerful means for the management to truly see potential of each employee, as employees unknowingly reveal their real nature
Disadvantages of Camping
Camping though is one of the preferred recreation for the individuals, families and corporates and undoubtedly comes with a host of advantages, yet there are a few disadvantages as well. These are enlisted below:-
Expensive Equipment: For successful camping trip, some basic equipment, proper clothing for protection out in the wilderness, water containers and non-perishable food items that will last the duration of a trip, require a noticeable upfront investment
Distance from Medical Facilities: Most of the camping locations are far away from medical attention in the event of an emergency, which means that if one suddenly falls sick, the suffering will be prolonged due to the distance to the nearest medical treatment facility
Infections: Camping sites are mostly unsanitized, meaning these can be downright filthy at times and with the overexposure to germs, comes the added risk of infection, along with chances of food poisoning, if food not stored properly and cuts and abrasions which can pose a serious problem if these are not kept clean and covered
Environmental Challenges: Mother nature is unpredictable, which, one can experience during camping – from unexpected torrential downpour to temperature variations in valleys or high altitudes
Insects: Insect and bug invasions of a campsite are more than just a minor annoyance, which can cause dangerous health issues with their bites
Scavengers: Many animals see humans as a source of food or they can be attracted to the smell of delicious food that radiates from the campsite, which can cause them to invade the site
Sunburn: Exposure to sun is common as during camping one tends to spend most of the time outdoors, and this extended exposure to the sun can put one at risk for sunburn
No Bathroom: Camping usually is without a bathroom or a shower facility, and bathroom in the woods and the waste can actually attract animals and other scavengers
Lack of Activities: Camping involves a lot of activities other than the typical catching food, building a fire or sleeping and if there isn't much to do and the activities are unplanned, one can easily get bored
Lack of Skills can Shorten the Trip: Many people dive into a camping expedition without properly researching the skills needed to survive in the wilderness resulting in winding up early and heading for home
Considering most of the disadvantages involved in a typical camping trip, unless one is out rightly adventurous and ready to fight the odds involved, glamping is much easier and safer option today with access to all the comforts and luxury as desired.
Camping is in vogue in the IT capital of India, Bangalore. From families to friend groups to corporates, camping is one of the preferred leisure and recreational options of the metropolis. Away from the busy and mechanical schedule of the routine life, Bangalore offers quite a few camping options for the enthusiasts, where one can rejuvenate oneself holistically. In and around the city, there many serene locations for such camping nights that are best ways of spending time. Most of the locations have facilities for luxury resorts, home stays, tent accommodation, log huts or jungle huts and the option of pitching personal tents.
With all its advantages and disadvantages, camping is a sure hit with today's generation, specially because age is no bar here and one can be well assured of having some great moments worth cherishing a lifetime!