Resorts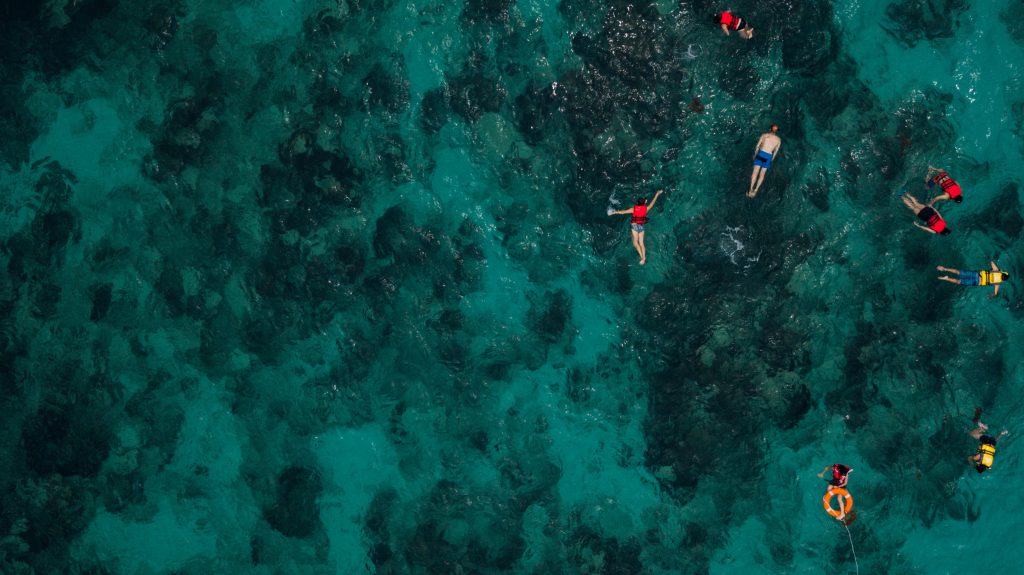 Beach Resorts near Bangalore
A state of serenity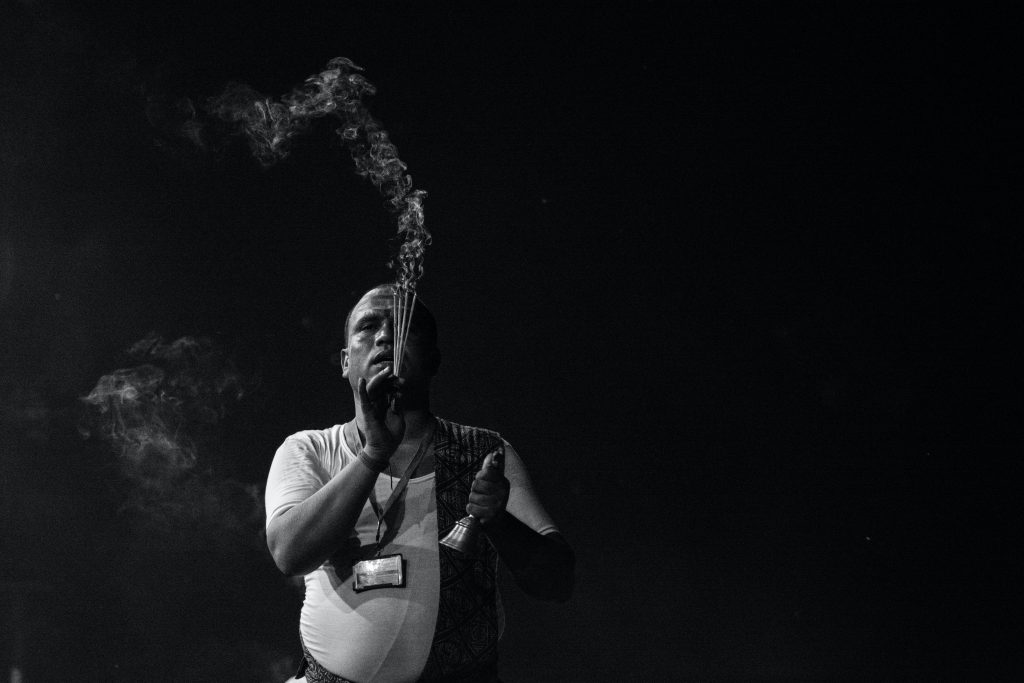 "I can do this all day" is what you hear yourself saying as you take a sip of that piña colada on your shack and gaze at the deep blue sky over you at one of the beach resorts near Bangalore. Cherry on cake if you have your favourite booking by your side. To make the day more memorable, add a bunch of people you cannot live without — and you have the most unforgettable trip of your life. You are imagining this as you read this blog at your work desk because you wish to make an important day in the near future worth it. The day ought to be special for you and your friends and other people associated with your lives.
There is no other better state than just laying down without thoughts. It is almost impossible to explain to people why it feels so good, just to be done with seeing anywhere but the sky in its azure. Most people think you are either sad or plotting a heinous act. Which is never true. It is a simple act of staying idle. A state of serenity. An inexplicable, enforced emptiness. To be able to quit looking at people and things, is the most beautiful gift nature has given humans. We can just shut our eyes or choose not to look at anything on cue. Some days, we sleep as soon as we fall in bed. Then wake up to a bright morning.
There have been times when we all have woken up and gone back to sleep right away and that had been the highlight of our day. Or, imagine waking up from a drunken stupor, fully hydrated and energetic than you were when you were sober. As if a miracle took place the other night. A fairy mixed our drinks with vitamins and other essential minerals that we'd need in the morning. But, we are getting ahead of ourselves. This is what happens at the party and after the party.
The Perfect Party Complex
The stress and anxiety associated with these days, at times, are unsurmountable. There are certainly some beach resorts near Bangalore, but not immediately outside Bangalore. All the resorts, therefore, are at a driveable distance. A perfect beach party awaits all of us. Having said that, there is too much pressure. Pressure in terms of being a good host and not letting a single friend down. Come what may. We all want to be that friend, colleague, relative, or love interest. It is naive to think things will go as planned. The thought itself never goes as planned. Food, drinks, props, it is a long list of things a party needs, to not be a perfect party.
Everyone wants to throw a perfect beach party and keep a few thousand aside for unwanted surprises. You don't want to go broke throwing an epic party. However, only a few people manage to throw an epic beach party that passes for a benchmark for all the future beach parties, or, all the parties. The issue is when you can't decide one simple thing: whether to host a morning, evening, or a late night party with dinner for all. That's just the tip of the iceberg. You don't want your friends to say in a few years that the party was actually kinda boring. The food was bland. The drinks were unoriginal. The places looked like a garbage can. Not the review you are going for.
Whatever party you choose, it should fit in your budget and should make you look back and pick memories to share, not look back with embarrassment and put your head down in shame. Fancy is a cost you pay for fun. Keep it simple. It wouldn't harm if one or two dance videos went viral on social media. It is a sign of a happy crowd mingling, together, happily. There are many ways a plan can go south. There is only one way for it to be engraved as one of the best parties that anyone in your circle has thrown. Let's have a look.
Simple is always more fun
All people are looking for at a party is, good food, a few familiar faces, and drinks to roam around with. We overcomplicate things by thinking people wouldn't enjoy a couple of lip-smacking platters of starters and go with over-the-top fancy decorative such as overhead lights when a wooden fire can easily make the night more happening. As long as you keep the food counter and bar open for extra hours and a place to crash for a few people, you are in a great review from friends.
Keep the Party Eco-friendly
Eco-friendly typically means to serve food and drink in biodegradable plates and glasses. Cutleries that are easily compostable and do no harm to the environment. In this context, what we also mean is to keep the nuisance away from the party. Meaning, people who stop being themselves after a few drinks in their belly. The beach party is supposed to be for fun. It should encompass dancing, getting to know new people and making friends and leaving all the worries behind. There is no fun in going after people who lose their cool after a few drinks and start ruckus for fun.
This is basically a mere suggestion, but we all have that friend in us who has been that route at some point in their lives. A point where we've gone just a little overboard and caused things to happen that we still regret to this day. It is your appetite as a friend, really. If you think you can handle a few friends at your party, then you will definitely have a few more stories to remember for that day.
Also read: Best things to do in Bangalore
You can either organize a party all by yourself and have the guests come in at the venue, or let the beach resorts near Bangalore do it for you. There are some pocket-friendly resorts near Bangalore that indeed understand every occasion and your need to throw an epic beach party for your friends and colleagues. Let's take a look at some comfortable resorts with great offers and impeccable services.
Beach resorts near Bangalore
Paradise Isle Beach Resort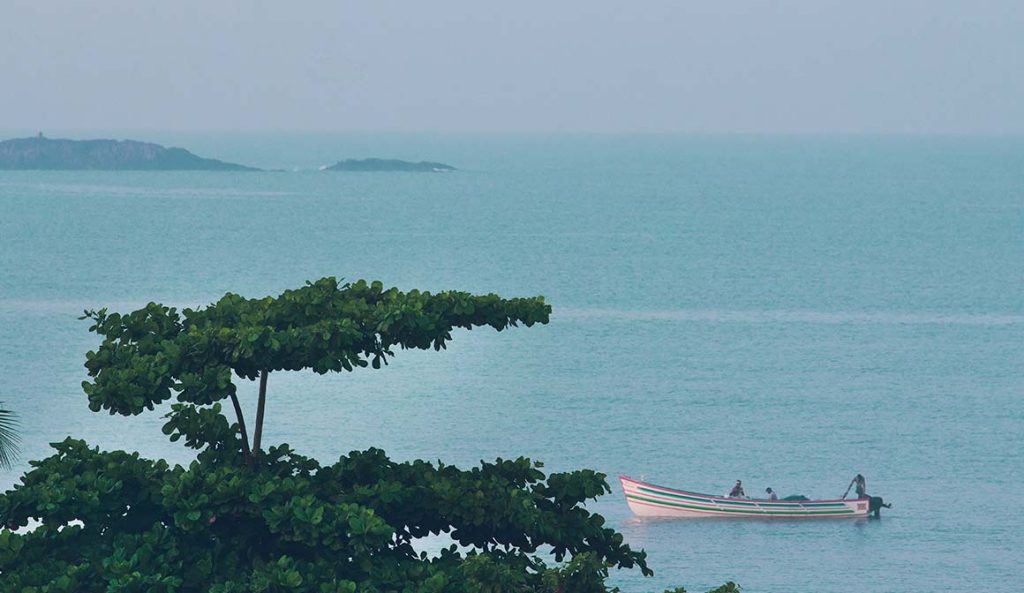 Address: 46, Malpe, Karnataka 576108.
Distance from Bangalore: 405 Kms (approx. 8 hours)
The Paradise Isle beach resort is the first and only entirely composed of silver sand beach resort in West coast Karnataka, situated immediately across St. Mary's Island. Conveniently located on Malpe Beach, this aesthetic setting by the beach is understandably the best idyllic piece of land near Bangalore. It is perfect for beach lovers, peace aficionados, and people crazy for beach parties with their friends.
There are numerous reasons to stay in the Paradise Isle Beach Resort but one that takes the cake is, water sports and recreational activities both inside and outside the resort. The resort includes a banquet hall for parties and family functions, and a discotheque for patrons to indulge in some EDM while having fun with their friends. When it comes to accommodation, it has all kinds of rooms such as standard, deluxe, and suites which are sea-facing, based on the availability. Rooms start from Rs. 4500 and upwards.
For more information on the resorts and its amenities, click here
The Gari Resort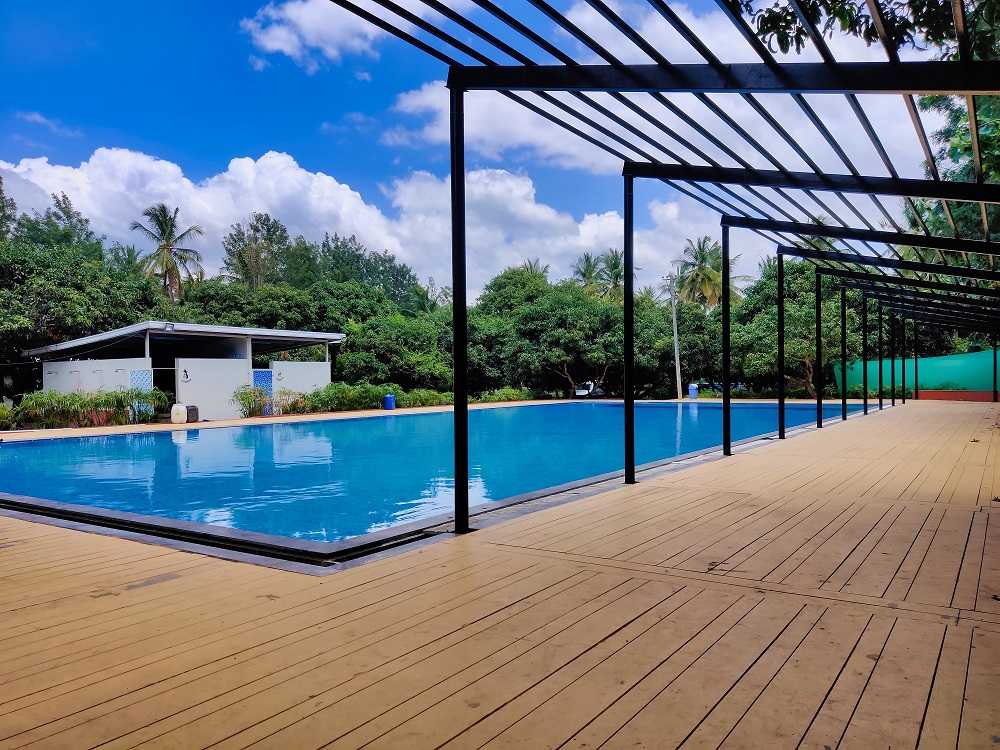 Address: No 211 Banandur village, Ittmadu Post, Bidadi, Karnataka 562109
Distance from Bangalore: 34.1 Kms (approx. an hour and a half)
The Gari Resort; simply one of the most visited resort in Bangalore city for leisure and adventure activities. This resort is for those who wish to go to a resort but not far away from the city. People who are not willing to go as far as the closest beach resort near Bangalore. But, do not mind exploring the places in the peripheries of the city. Secondly, the Gari Resort is the closest resort in the Kanakapura Road that offers a gamut of adventure activities and accommodation facilities to its visitors.
Finally, the property is surrounded with verdant green natural endowments such as meadows, coconut trees, garden, park, and natural light. There is a kid's playing area and a separate swimming pool where children can safely make themselves home. For adults, mainly people in groups, are inundated with an overwhelming number of sports as well as recreational activities throughout their stay.
If you are someone who likes to throw pool parties or push their friends into the pool, this is the perfect place to get your freak on. To paint you a word picture, stun your friends with pushing in the pool scenario. After that, take them to adventure activities unique to the Gari Resort, and cap the day with a campfire around the tents and music playing in the background. Don't forget to look at the stars. Apart from all this services, The Gari resort also specializes in family functions like marriages, engagements, bachelors, and bachelorette parties. It is also a perfect getaway for friends to hang out with each other over a weekend.
To know more about the accommodations and activities, click here.
The Cassava Retreat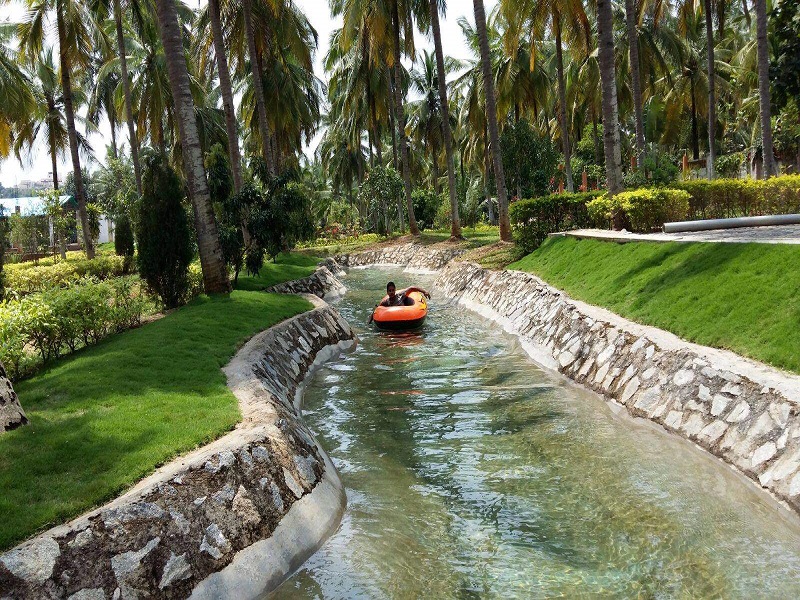 Address: No 144/5, 145/3, O B Chudanahally Road Off Kanakapura Road Vaderahalli, Bengaluru, Karnataka 560062
Distance from Bangalore: 26.7 kms (approx. 54 mins)
Compared to all the other resorts in town, The Cassava Retreat is the where people are least bothered about their every day lives and mundane jobs. People come to cassava to forget their 'normal' lives and make the most of the surrounding craziness. Together with your friends and colleagues, you can participate in games: outdoor and indoor games that demand more than one player. Cassava also hosts team-bonding games for teammates to know each other and their managers more clearly.
Friends have the most fun in this resort, which is situated close to the city corridors. Spread across acres of land and overlooks a massive green meadow, Cassava retreat is indeed a gift that keeps on giving. It gets better with every visit, and finally come to terms with its unabridged connection with nature that gets extended to you. It's detailed design will bring out the child in you. The narrow streamlet that flows across the lawn area is overwhelming to say the least.
A perfect gathering of all sorts takes place in Cassava. Book the ground to play sports, or, pick a game from the list of games available in your package, or, dance all your worries out with your friends in the rain dance or during the camp fire at night. Then, sleep in the tent, stargaze, or go for a stroll before hitting the bed. Fun is simply why places like The Cassava Retreat exist. To complete all your meetings and seminars and award functions during the day and leave the evenings and nights for fun and fun only.
To know more about the facilities and accommodations offered by Cassava, click here.
The Dune Eco Village and Spa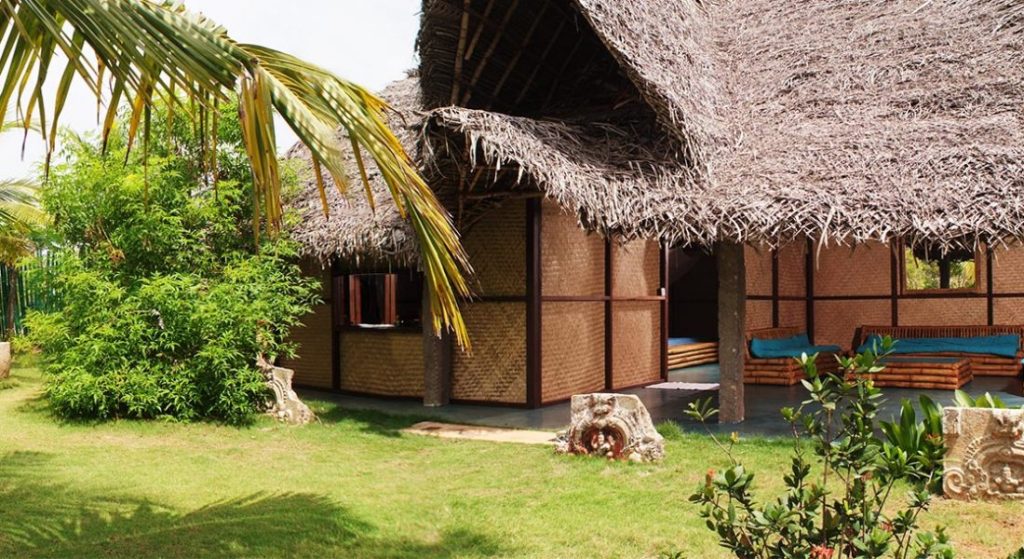 Address: 70, East Coast Road, Pudhukuppam, Keelputhupet, Via Puducherry university, Puducherry, Tamil Nadu: 605014.
Distance from Bangalore: 363 KMS (approx. 7 hours and 19 mins)
One of the coolest beach resorts near Bangalore. Dune is a beach hotel with an area of 30 acres of state-of-the-art facilities. It consists of 26 adorable villas, incorporating a traditional and innovative setting with swimming pool, an organic farm, a tennis court and a beach-front area of 700 metres, that welcomes visitors all year. The bungalows spread over 30 hectares and about 700 metres from the beach. Each of them is individual, furnished, sized and equipped.
You can enjoy many thrilling activities, such as spa wellness therapies and massages, meditation, health club, yoga, bike, tennis, volleyball, in-house jogging path 2 km away. There is also a golf course putting lawns, boating, horse riding, kitesurfing, and table games. Take your friends to one of the best beach resorts near Bangalore and surprise them with a view of the sea from the swimming pool, which is 700 metres above the sea level. There is no other place to party than in Puducherry. And if it is in Puducherry then it has to be in Dune and under its solid hospitality.
For more information on what the resort offers, click here.