Resorts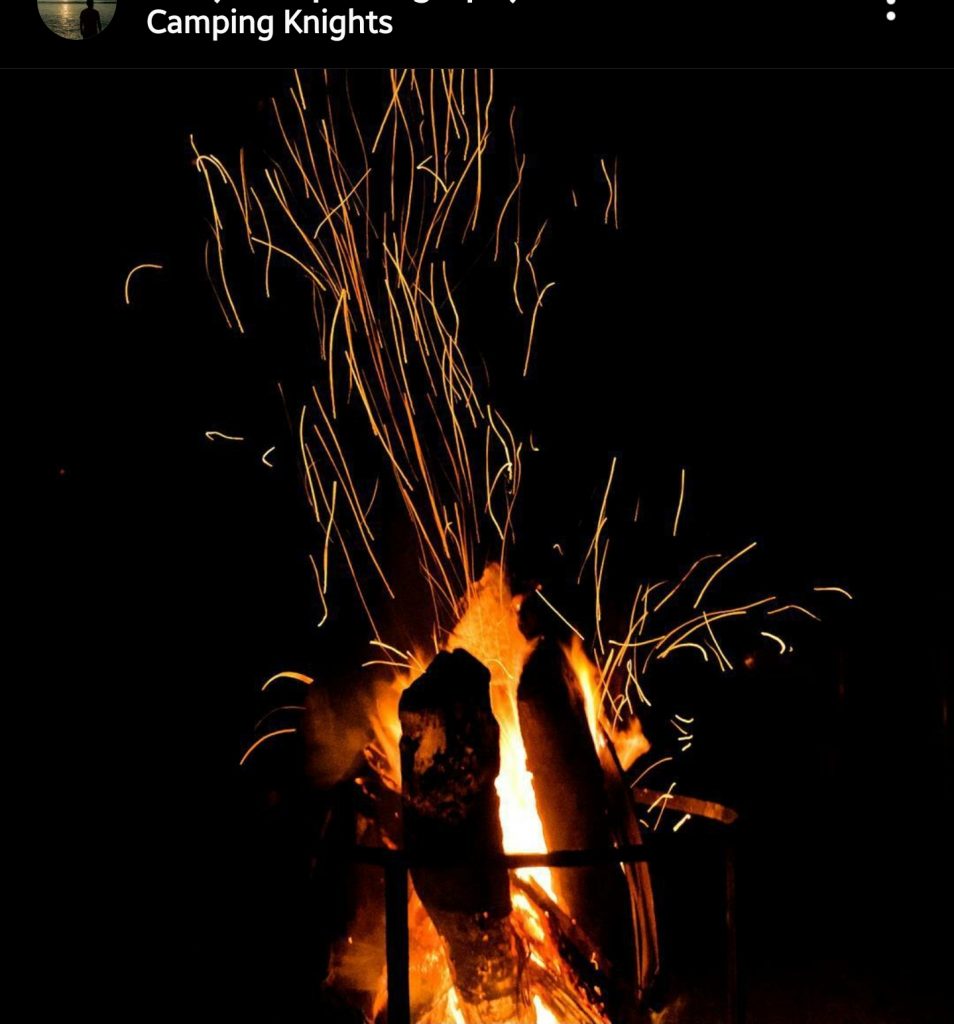 Top five resorts with adventure activities in Bangalore.
I am sure when there was a total lockdown imposed, you may have observed a sudden drop in the air pollution, decrease in noise pollution and with that, the lake and river water finally were able to clean themselves. The almighty Ganges had never been more cleaner even after funneling thousands of crore rupees into the cleaning project. In fact, our very own Ulsoor Lake in Bangalore got cleaner due to Lockdown and the pollution level reached near zero. Owing to which the Hight Court questioned the government as to what they are going to do to keep it that way.
Since the time things have gone back to normal we have been more in touch with ourselves as well as the nature. I realise it is very tone-deaf of me to say that with a straight face when the number of active cases are on all time high, but if you step out of the house you might even come across people who are roaming around without masks – calling themselves mask vigilantes, or people who wear masks on their chin. Best ones are those who take their masks down while talking to you. Defeating not only the purpose of the mask but common sense too. You can't help but laugh at them and politely step away as they come any closer.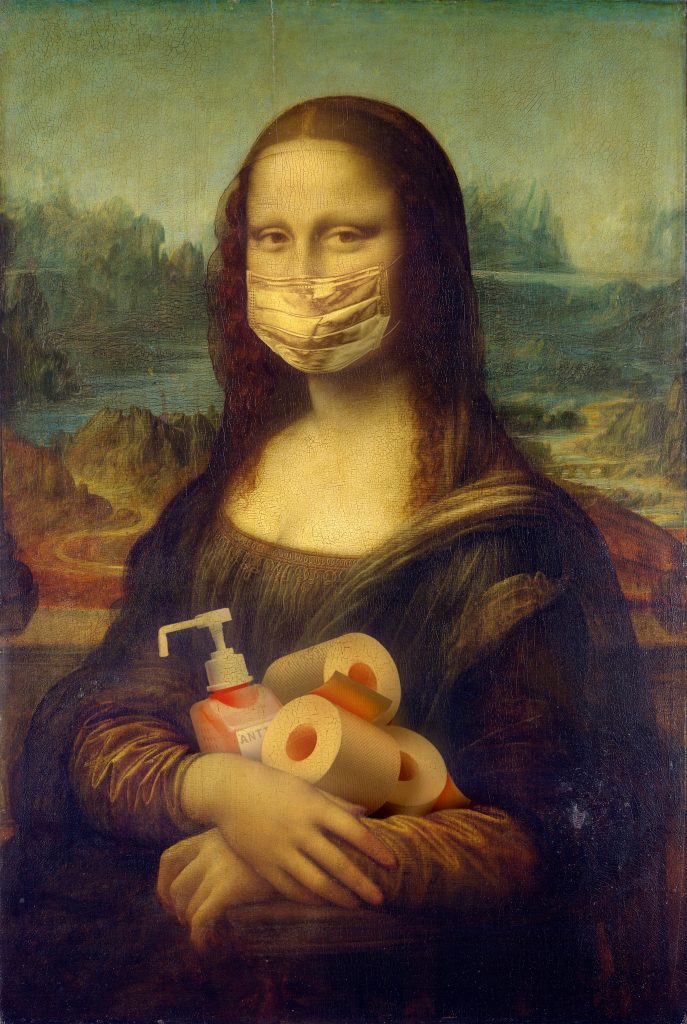 With covering mask comes great responsibilities. You reward yourself each day when you follow social distancing and sanitize your hands. Some of the best resorts in Bangalore have been operational for over a month now and they are trying their best to make it a point to provide the best service and adventure activities amid maintaining necessary precautions.
Let's take a look at some of the top resorts with fun activities.
Camping Knights – Hosur Road
Think about a place not very far from the city, that offers nothing but a great camping experience. A place that is also known for its greenery and delectable food. Yes, that is what Camping Knights is an experience amid the tower of thick trees with personal campfires for each tent/group, etc. They services range from camping, day outing for corporate, and team outing.
Post lockdown, as every place is gearing up for a version 2.0 of 2020, The Camping Knights have maintained to follow the Covid-19 guidelines with utmost sincerity so as to make customers their first priority before anything else, making it one of the most famous Camping resorts in Bangalore.
Camping Packages:

Overnight Camping – Rs. 1749 per person

24 hour package – Rs. 2099 per person.

Oernight camping without food – Rs. 999 per person.
Address: 1180, 5th Main Road, Sector 7, HSR Layout, Bengaluru, 560102, Karnataka, India
Blue Mango – Nelamangala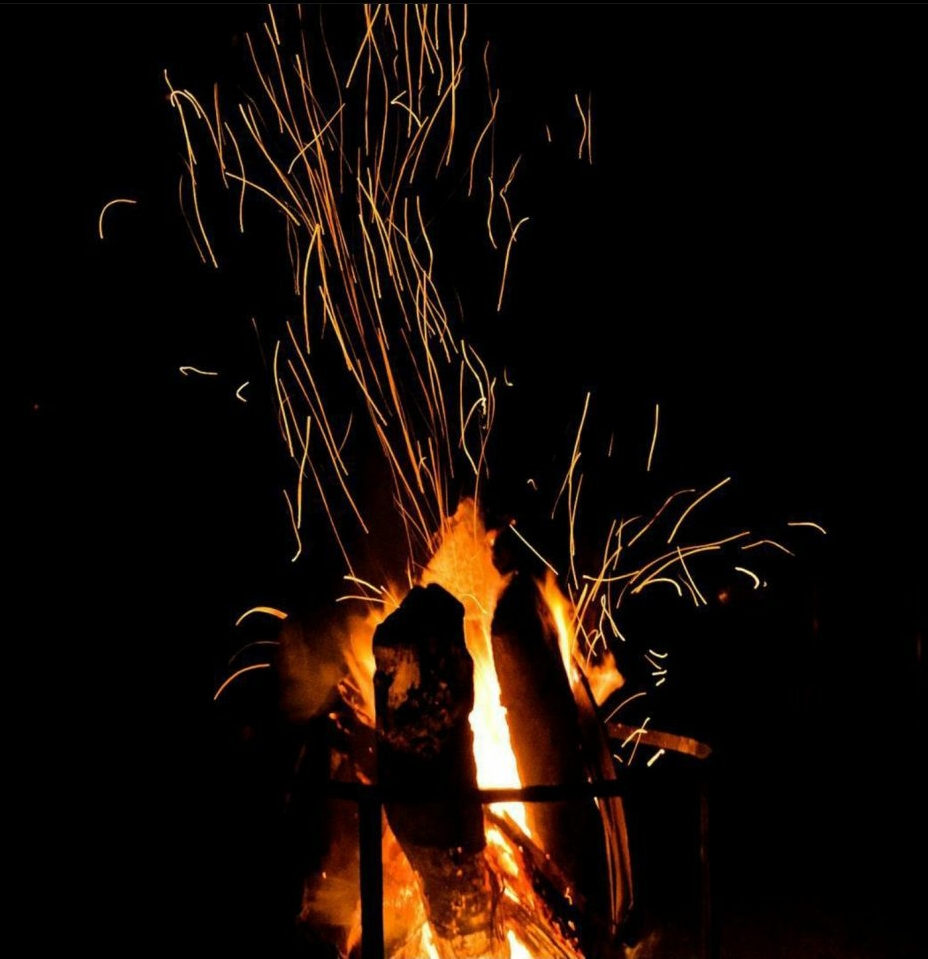 Blue Mango is one of the most talked about Camping places in Kanakapura Road, Bangalore. It offers a wide range of camping services all the way from camping with friends, couple's camping, corporate team outing, and it is a perfect place for solo campers. You can setup camps at the river bank and stargazer all night with your friends or significant other.
If you are looking for spending some fun time with your friends while looking at the stars, or quality with your significant other then this is a perfect getaway destination in Bangalore. Surprise your partner by taking them on an over night camping trip to Blue Mango. They have an overnight package that includes tents, dorms, and rooms in based on your requirements. Your friends will love this place if they haven't tried camping before as lakeside camping will be best-suited for first time campers. Take them on a tour of the sound of the crickets and fire flies with a crate of beer.
Camping Packages:

Full Moon Camping – Rs. 1999 per person.

Byot Camping – Rs. 650 per person.

Camping with family – Rs. 4999 for three campers.

The above packages are not inclusive of taxes.
Life Tree Resort – Hanumanahalli, Kanakapura Rd.
All the adventure activities in Bangalore town are worth a try. For some people adventure starts from the minute they open their eyes in the morning. While some look for adventure outside their work lives in the form of a quick weekend getaway to a place where they can anything as per their will with no compulsion.
Ever imagined a place covering all the fun activities as well quiet for every age? Life tree resort is an immersive experience for those who love to get that adrenaline pumpin. They have a variety of packages for all types of customers. Their corporate packages are affordable and can accommodate a large group of people.
They have some of the most interesting activities such as Rappeling, and Climbing along with trekking around Bangalore to places like Siddara Guhe and Peak named Devara Betta. People choosing trekking as their weekend escape from the city is increasing by the day. We need new challenges in order to gain strength to overcome the old ones which could be personal of professional. Life Trees is a perfect combination of quiet and thrill amid the natural set-up. Also, competitive day outing and camping packages make this place worth a visit.
Camping Packages:

Corporate day package – Rs. 950 per person

Night package – Rs. 1300 per person.
Address: Hanumanahalli, Kanakapura Rd, Bengaluru, Karnataka 560102
At the first glance, the resort might look like a golf course site with accommodation but there is more to it than just meets the eye. Eagleton is by far one the best places in Bangalore to hang out with your friends and family even if you are not in the sport.
It is quiet and a growing name amongst Golfers across the country. Having won over 18 awards on golfing, it has become a perfect abode for Golfers.
It is the first choice for non-Golfers too – due to its rich green meadows and tranquil escapades. They host a myriad of recreational activities for families to reconnect with each other and make a fun night out with friends. Do visit this place to get relished in to some respite. Besides catering to needs of your family The Eagleton is equipped to host corporate outings and meetings.
Camping Packages:

You will have to check with the staff.
Address: Eagleton – The Golf Resort
30th Km, Bangalore – Mysore Highway,
Shyanamangala Cross,
Bidadi (Bangalore Rural) – 562 109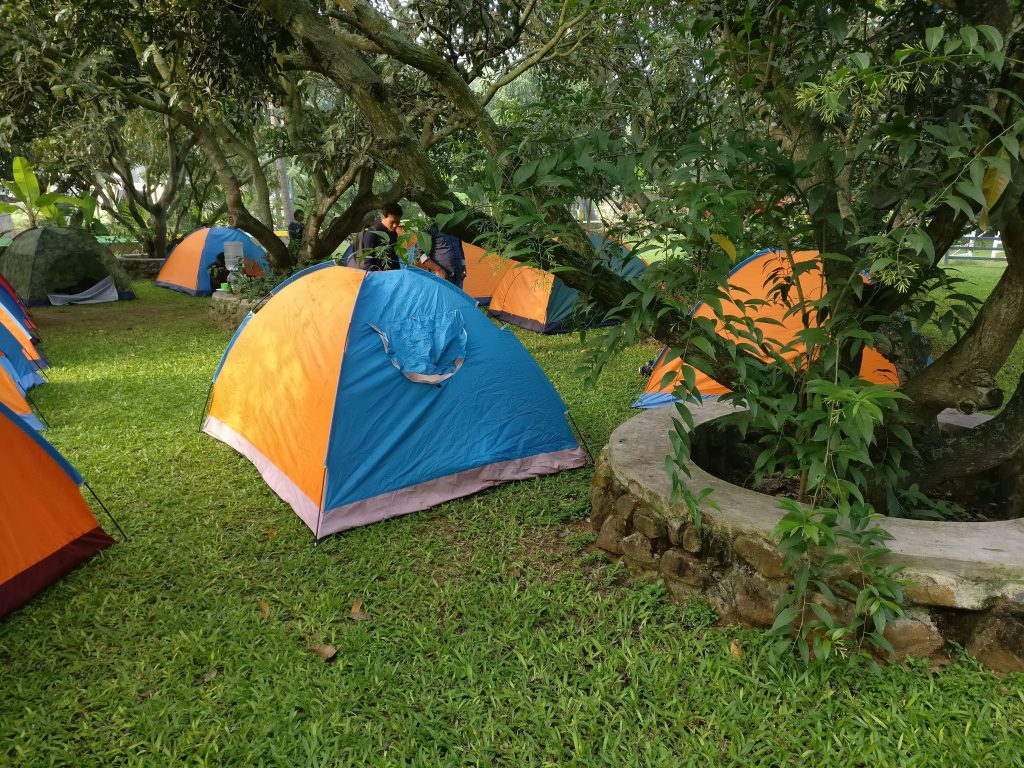 The Gari Resort is tucked in aesthetically in the outskirts of Bangalore in a place called Bidadi, amid the natural green vegetation developed over time. Besides offering a multitude of accommodating options such as Swiss style tents, rooms, and dorms, The Gari is a name to rely on if you are looking for a reason to involve in a hiatus filled with pulsating activities as a way to connect with yourself.
Zip line, Burma Bucket, multi vine, commander walk are some of the most interesting games visitors take part in while in Gari. The corporate packages are simple, affordable and perfect for offices that wish to rekindle the cost of employee-employer relationship after the lockdown. The only complain you will have with the place is the fact that you will have to leave the beautiful and scenic place.
The staff is groomed and highly professional when it comes to handling larger groups of people especially during the Covid crisis. They are trained to help maintain social distancing, while following the principles themselves. The Gari Resort also offers discounts for corporate outings, and Family Outings.
The tents come with personal campfires which is perfect for couples and even for solo travellers. This measure also helps us prevent contact from other groups. Now is the best time to book your stay in the Gari Resort because the season brings a different birds and greenery to the place with a hint of cool breeze in the air. Its the best corporate team outing place in Bangalore.
Camping Packages:

Camping Tent – Rs. 2128 per person.

Services: Campfire, Breakfast, Lunch, and Dinner.
Address: The Gari Resorts. 211, Banandur, Village Bidadi,Bengaluru, 562109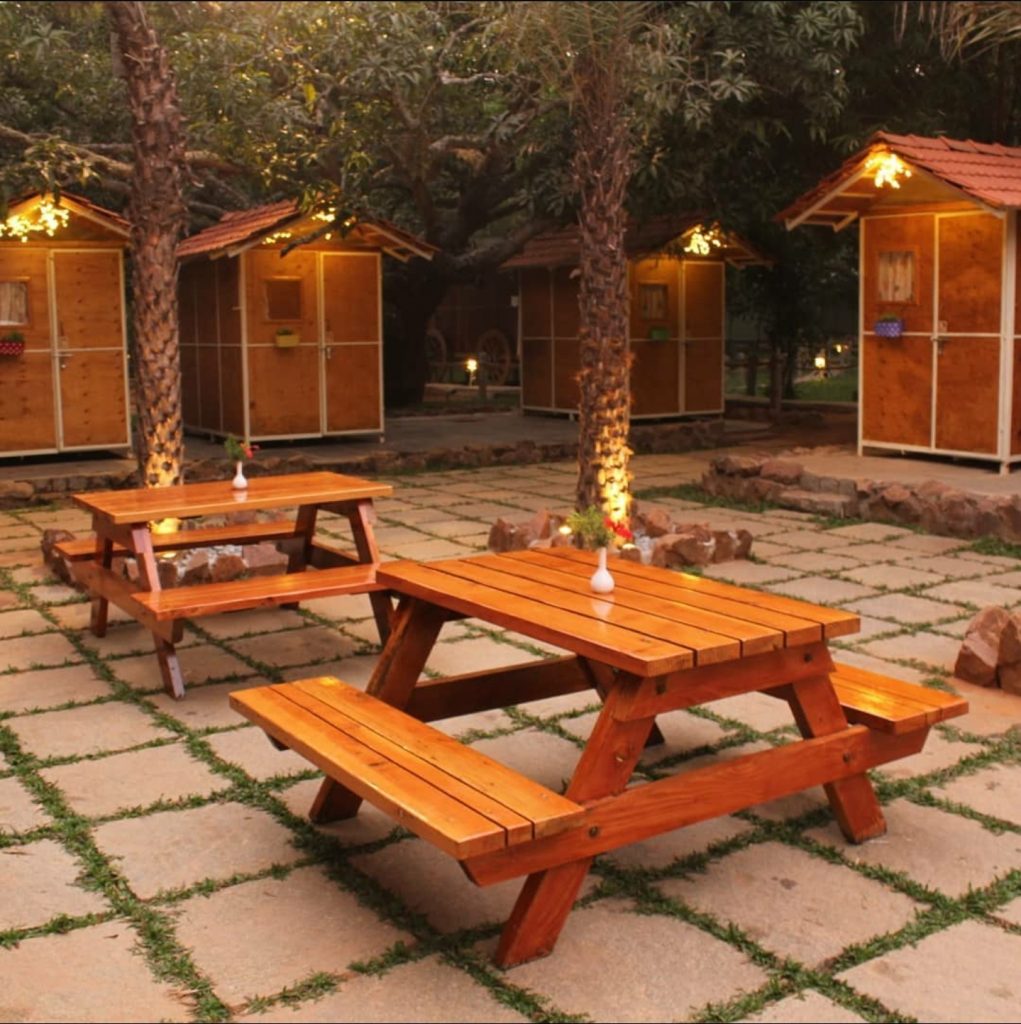 This is the second Mango entry in the list of top five resorts. There are resorts in Bangalore that offer a host of group and individual activities through camping and daily activities, but the reason this resort makes it to the list of top five is because of its untethered customer service and the seriousness with which they follow the Covid guidelines.
The Mango Mist is a safe place in all aspects. The safety precautions they take during the adventure activities are conspicuous, ensuring visitors are well-harnessed to avoid any untoward mishaps. They also offer something known as The Mist Dance which is unique to the place. Their amenities involve a wide range of options including private pool and kids pool, conference are for corporate team outing, and a poolside bar. Their Bar menu is extensive super pocket-friendly.
Camping Packages:

Camping tent: 2550 per person

Camping Hut: 2850 per person

Offers: 15% discount if booked three days in advance and 10% on weekends.
Address: Survey No 33&37, Harapanahalli Jigani Hobli, Anekal, Taluk, Bengaluru, Karnataka 560105
In order to keep people from contracting the virus, resorts are only accepting limited bookings. Some resorts also provide personal campfires due to that reason. Don't forget to do a quick weather check before booking a resort with camping services and make sure you are aware of the amenities the package will cover at the time of the booking and what more season-specific or topical services are included with the package.
There are two types of camping overnight as well as 24 hours. Choose the ones based on your needs for a memorable camping getaway. Make sure you are clear with the type of accommodation you need. There are different kinds Camping tents and camping huts.
Camping Tents:
Camping tent is a temporary shield made of nylon or canvas that accommodates at least two people. An ideal tent size is 10 by 10 which is also high on performance and can be easily set up. Mostly, resorts and camping companies set up commercially viable tents that can be used for a longer time as opposed to the ones that campers carry with them.
Types of Camping tents

Dome tent
Car roof tent
SUV tent
Instant tent
Geodesic tent
Camping Huts.
Camping Huts are permanent structures made of concrete or wood which are then covered with a canopy of thick canvas of nylon to complete the look. These types of tents are usually found in colder regions where the outside temperature is mostly likely to drop to unbearable levels and the thick coating of concrete offers protection from the cold weather.
Some places even offer a weekend getaway in the form of sites. Meaning, if you have your own tents, you can set them up in their property by paying a nominal fee. These services are commonly known as BYOT, meaning bring your own tents. Having said that, services available along with BYOT will be limited to water, using lavatory, and security. It might not have any additional complimentary services attached to it.
For a fun night with friends or office colleagues, recommend The Gari Resort for the best team outing experience in Bangalore. You can check our corporate packages for camping here.