Corporate team outing places in Bangalore.
Corporate team outing places in Bangalore are far too many for startups with a slightly different approach.
What makes a company a part of the corporate world?
Fun Fridays
Really engaging meetings
Office games during work breaks
Corporate outing in cool resorts in Bangalore
Achieving targets before the deadline
Actually getting something without having to ask for it
Better leave policies
Understanding bosses
Trust between employees.
For most employees, a company becomes a part of the corporate world when everything listed above is fulfilled. A young startup or a new company nowadays aspires to be fun-filled and take a casual approach towards everything starting from freedom to wear outfits to including team outings in their yearly budgets while having a stern stand on work ethics and no tolerance for poor quality work.
A corporate team outing in Bangalore, a few years ago, meant going on a lunch, ordering and consuming a lethal amount of food that'd make the rest of the day lethargic. You would pretend to work by staring at the computer screen or doze off while completing a spreadsheet. It also meant going to a movie with your teammates, and taking the rest of the day off and working on Saturdays to cover the lost hours. Most of these outings came with an enforced condition that in case employees fail to attend, they will be considered to be a day off or a loss of pay.
A lot of outings were a declared "unofficial" parties which included alcohol and splitting the over all bill or managers paying for the rest of the team. Best team outings in Bangalore were considered the ones that allowed all the employees of the company or the whole team including the managers to go away for a weekend.
Times have changed. They have changed for good. Weekend trips and pub hopping with office buddies had become a finder's dream. Outings turned into Zoom meetings and video conferences. Corporate events were conducted on Fridays over Google meets and awards were merely shown on the screens.
2021 is now bringing back what 2020 took away. All the fun is coming back two times Corporate events in Bangalore are no more just corporate anymore. Businesses are now planning their corporate events in resorts in Bangalore, which are customized for each department. Company outings are also about the reputation a company holds in the market.
Local news agencies often cover the events, showing their peers that they work hard and party harder than any other companies in the same domain. Parties have now become so prevalent that better funded companies don't actually look for a reason to throw one. They just wait for the end of the week. The HR department always has numbers for resorts on speed dial. And why wouldn't they be? Resorts have much more to offer than a theme park or a hotel. Along with accommodation, budget resorts in Bangalore offer camping, hiking, fishing, water activities, games, adventure activities, buffet lunch and dinner. That is a lot to cover in a day.
The two resorts one must have on speed dials are:
The Gari Resort.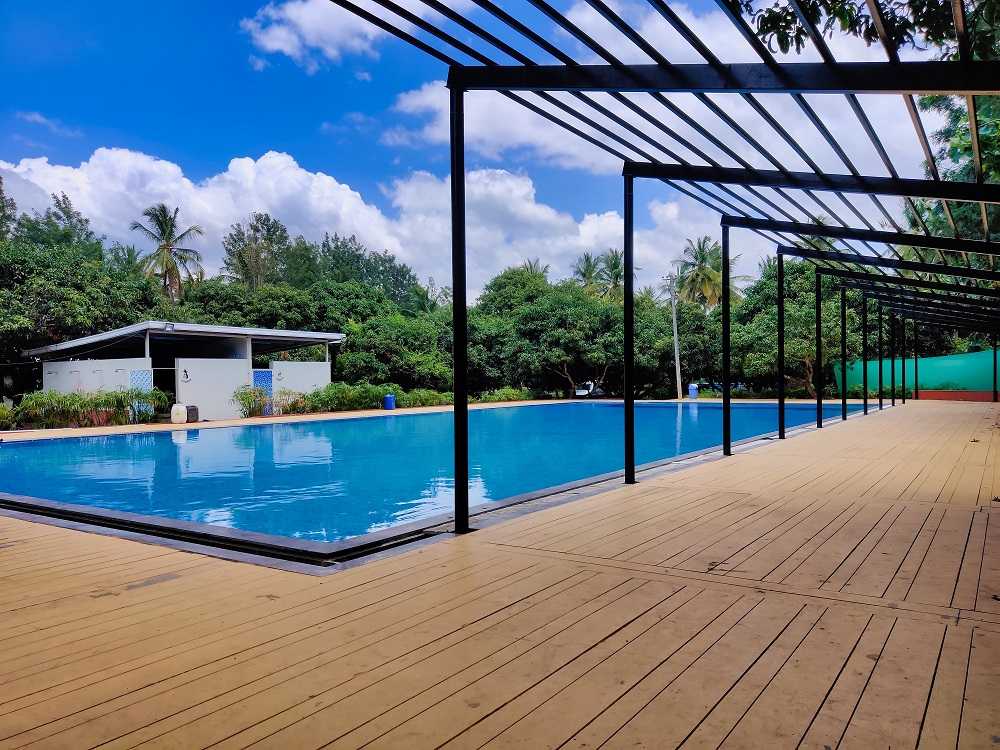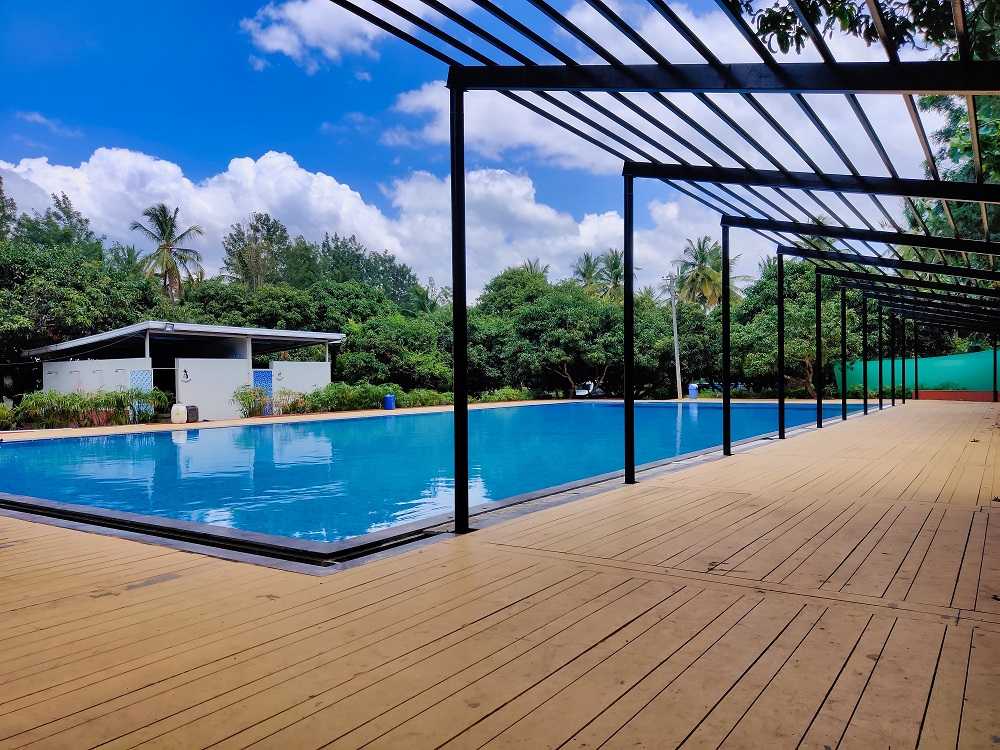 Distance: 33 kms from Majestic
Alcohol: Not allowed/available.
Kids playing area: Yes
Offer: 10% on groups with more than 20 people.
Couple friendly: Yes
Team building activites: Available at request.
Rain Dance: Yes
Where it is located: No 211 Banandur village, Ittmadu Post, Bidadi, Karnataka 562109.
Corporate circle is a group we spend most of our time with, nearly half our lives of the time we spend in a company. Right from the moment we leave our house, take a cab, and get to the office premises, to grabbing a drink or dinner afterwards, we keep bringing and brewing conversations that might interest our colleagues. Most of us try to build a rapport using different topics to get along with our team buddies.
Topics to discuss on Corporate team outing places in Bangalore.
Current affairs: This is one of the easiest icebreakers to light up the vibe after the initial handshakes and formal introductions. Topics such as Four day work policy by the government, changes in education policies — its advantages and disadvantages, budget 2021, farmers march — who is right and who is wrong, basically the whole nine yards. Read up on topics beforehand, so you have something to bring to the conversation.
Some more topics:

Worst hangover
Dream they still remember or recurring dreams.
Who was actually the villain, Tom or Jerry?
Worst day at work or in a project.
What improvements can the company use?
Which department needs to cheer up more and involve in company gatherings more?
Next holiday plans. Music festivals you wish to go to.
Football: You may have seen pub brawls around football discussion which led to serious bone and chair breaking arguments, and perhaps lots of regrets in the morning. Football makes for a great topic to discuss over dinner on a cosy Saturday lunch with your teammates.
Emerging start-ups: Bangalore is the first place any budding entrepreneur thinks of when they have an idea and wants a trial because people here accept new ideas quickly and open to changing their lifestyles if it has to come to that.
Favourite places: Every week there is a new eatery, every week a new brewery opens with a new set of beers and there is a pizza place in almost every area that serves amazing wood burnt pizzas. Bringing up topics such as these almost always causes a chain of recommendations that help each and everybody on the table as everyone, while has somewhat the same taste in food, our taste buds have had different experiences in places that serve the cuisines we like.
Also read: 10 team building activities for corporate employees.
Gari Resort is a place to have epic conversations, share dinner table wisdoms, and make sweeping declarations with like-minded people who would support your decisions and some may even take part because everyone appreciates change in their lives.
The Gari Resort is constantly redifining the genre, corporate team outing places in Bangalore in very different fashion. Horse riding is one of the new entries in their adventure activities list. Budget resorts in Bangalore avoid such moves as they fear less footfalls stating safety measures not being seriously or places not hiring proper professionals to ensure essential parameters are ticked off.
More fascinating news is that you can get involved in all the recreational activities in the morning along with horseback riding to set yourself up for a night camp. Book yourself and your friends a tent or four to cap the amazing day.
Take a look at the activities in one of the thriving budget corporate team outing places in Bangalore.
Flood light games
ATV Bike Ride
Multi Vine
Zip line
Pipe Bridge
Burma Bridge
Balance walk
Unstoppable Cross Bridge
Wood Cross
PG Ladder
Single line Bridge
Burma bucket
Camping Package:
Price: Rs. 2128 per person (including tax)Check in time: 01 pm
Check out time: 11 am next day.
Price includes: Lunch, Dinner, Breakfast
Magic, Pottery, and mind reading (happens only on weekends)
Flood light games (complimentary only between Monday and Thursday) otherwise Chargeable at Rs. 699 per hour.
10% discount if booked for more than 20 people.
The Cassava Retreat.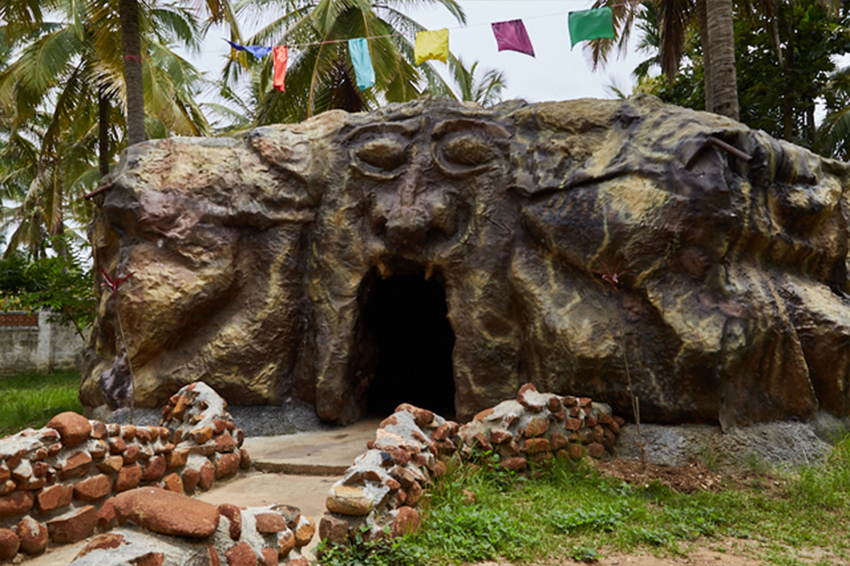 Distance: 27. 2 kms from Majestic.
Alcohol: Not allowed/available.
Kids playing area: Yes
Couple friendly: Yes
Team building activites: Available at request.
Offer: 10% on groups with more than 20 people.
Where it is located: O B Chudanahally Road, Kanakapura Rd, near Art Of Living Map, Vaderahalli, Bengaluru, Karnataka 560062.
Elon Musk is now the richest man on earth. Not only the richest, but we all can bet he is the coolest CEO as well. He surpassed Amazon CEO Jeff Bezos, who recently stepped down as the company's CEO. His journey also started as a nerd who wanted to become more than what he was, an online bookseller. But, life caught up, and he faced a lot of accusations for exploiting employees, workers, and delivery people. Elon Musk, on the other hand, gets praised by his employees for being super generous and sharp.
We can only imagine what his team outings would look or feel like, where he'd take his employees on a holiday. Island in Hawaii or a Caribbean beach, or may be on a cruise. A lot of CEOs think of becoming someone like him while taking their employees to a corporate team outing resort in Bangalore.
From a simple businessman, Elon Musk turned into a tycoon who got the idea to found Paypal and then to an eccentric nerd who wanted to create sustainable spaceships for space travels to fully evolved human operating on a different IQ who wants to start a colony on Mars, his journey is every budding businessman's dream. To venture into every business and turn into a trendsetting rage.
Entrepreneurs want to be the part of the startup culture — to take the market by the storm by solving people's everyday problems, but seldom does it happen that the grassroot level employees take the same route. Communication tends to break somewhere down the pipe for them to acknowledge the same approach as other employees.
The Cassava Retreat is one of the most interesting corporate team outing places in Bangalore. It is where one dreams to bring a permanent change in the society that'd make the world and its mundane chores a bit easier yet fun to deal with. It's one of the best budget resorts for team outing near Bangalore.
The green vegetation is where ideas sprout like mustard seeds. It is the pan where the mind finds itself to pop ideas, but that is not enough. Every idea needs a push, whether it comes in the form of a sacrifice or by meeting and talking to people that take interest in your vision. Luckily, there isn't a better place in the country than Bangalore. It embraces all ideas with a pinch of a salt. The city allows you to fail. It allows you to go down with pride and come back up like a rollerblade.
People come up with ideas in places where they aren't afraid to look silly. What better place than The Cassava Retreat in Bangalore. Here, you will not be afraid to look silly to your colleagues and friends, unlike the office setting where everyone pretends to be prim and proper and tries to impress or come across as smart even when there arises a need to ask serious questions related to the current topic.
Also read: Five ways travelling can help you
Its ambience and vibe is designed by the nature. It opens up a world of infinite possibilities that helps you connect the dots as you ponder over ideas via stories and varied experiences. Positive ambiences change perspectives, make an idea's inception more believable and its execution even more interesting. We begin to observe things with clarity that were not possible otherwise, in an office setting.
As and when you feel you have exhausted too much time or have reached a mental block, you can make use of the rejuvenating activities inside the property or even take a stroll and come back with a fresh mind.
Some really interesting activities in the corporate resort near Bangalore.
Triangle
Commando Work
Pipe Bridge
Burma Bridge
Wood Cross
PG Ladder
Unstoppable Cross Bridge
Single line Bridge
Zip line
Amenities in The Cassava Retreat.
Swimming pool
Indoor Games
Outdoor Badminton
Table Tennis
Kids play area
Bon Fire
Rain Dance
Packages.
Camping Package:

Price: Rs. 1100

Price includes:
Access to the swimming pool.
Rain Dance.
Use of standard facilities of the resort.
Seven adventure activities.
Six low rope activities.
Archery.

Timing: 01 pm to 11 am.
Luxury A/C rooms:
Price: Rs. 2000 per person.
Price includes:
Access to the swimming pool.
Rain Dance.
Use of standard facilities of the resort.
Seven adventure activities.
Six low rope activities.
Archery.
Lunch, Hi-tea, and Dinner.
Timing: 1 pm to 11 am.
Come to The Cassava Retreat for more than one reason. It hosts wedding parties, anniversaries just as well as corporate team outings in Bangalore. With the availability of Covid-19 vaccines, the resort is now taking reservations in full swing. Big group discounts apply.
If you like what you read then please consider subscribing to our blog posts by entering your email address and name below.

We promise we will keep it to a minimum!