Resorts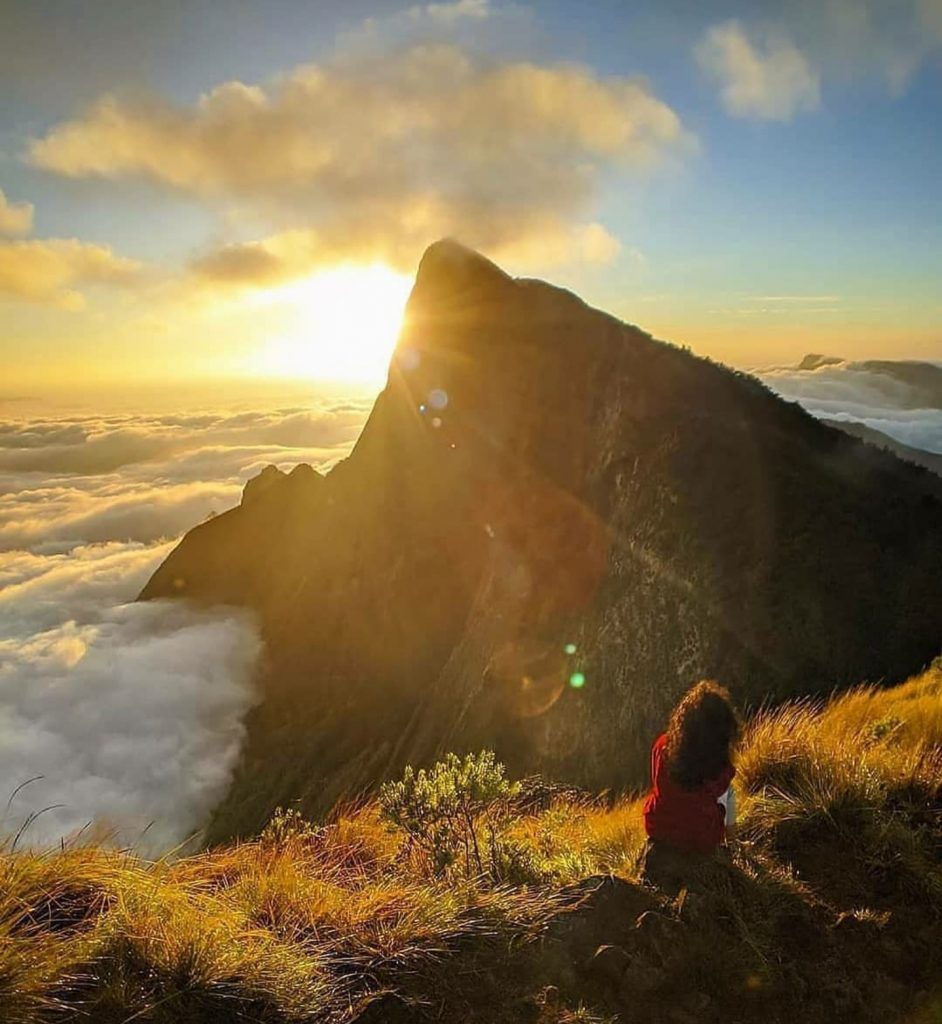 Five best places to visit during winter in South India.
2020 has been the year of little victories. While the world is going through a series of problems of its own, we are marching towards the end of the year with hopes to see our lives gaining some momentum with our plans with travelling more to some coolesr destinations in South India or any other parts of the country and meeting new people, which, unfortunately, never saw the light of the day due to the Covid-19 lockdown.
This is probably the first time in the history of mankind when we didn't plan our summer getaways and took our children on a holiday to a hill station to escape the scorching hot heatwaves of the cities. We all made sure everybody including ourselves was safe by not encouraging people around us to step out. Whether we were stuck in a different city, away from our families, or stayed in the same homes.
The world came together as a unifying force to deal with the year 2020 and powered through battling the pandemic by staying indoors most of the time. Especially the ones with children and senior citizens because the chances of transmission were way more in children and old people over the age of 60. However, in a population like India, where people stay in such proximity of their neighbours in cities like Mumbai, Delhi, Chennai, and Bangalore, the cases were bound to go up. And not to forget the carelessness of the young generation who seldom carried a sanitizer or wore a face mask but gathered around in groups to talk.
With the summer and monsoon on their way out in most part of the country, winter drifts in merriment bringing new promises with it along with frosty air and new colours in the sky. Spend the end of the year in one of the best places in South India during winter looking at the flowers bloom, or staring at the mountains from the balcony of your hotel balcony. After all that has happened this year, listening to the sound of the waves at an exotic beach is the best way to confide in.
While the IPL is indeed doing a great job of providing us some relief from the horrors of the Covid-19 situation, there will be a time this year when the IPL will be over and we will go on looking for other distractions, and you would want to step and go on a vacation with your family and friends to a cold region mainly to compensate the lack of opportunities offered by the year gone by.
As I list some of the best tourist destinations in South India in winter, please be advised to take good precautions and ensure the places you are staying in is following the government laid guidelines carefully and religiously.
Some of us had been lucky enough to not contract the virus plainly for reasons that we are asymptomatic or our bodies were immune enough to battle it out. Therefore, using all the precautions there was we have reached so far. Let's all be extra diligent while travelling too so the dangers of the deadly disease don't get to us.
Top places to travel in South India
1. Pondicherry: 310 kms from Bangalore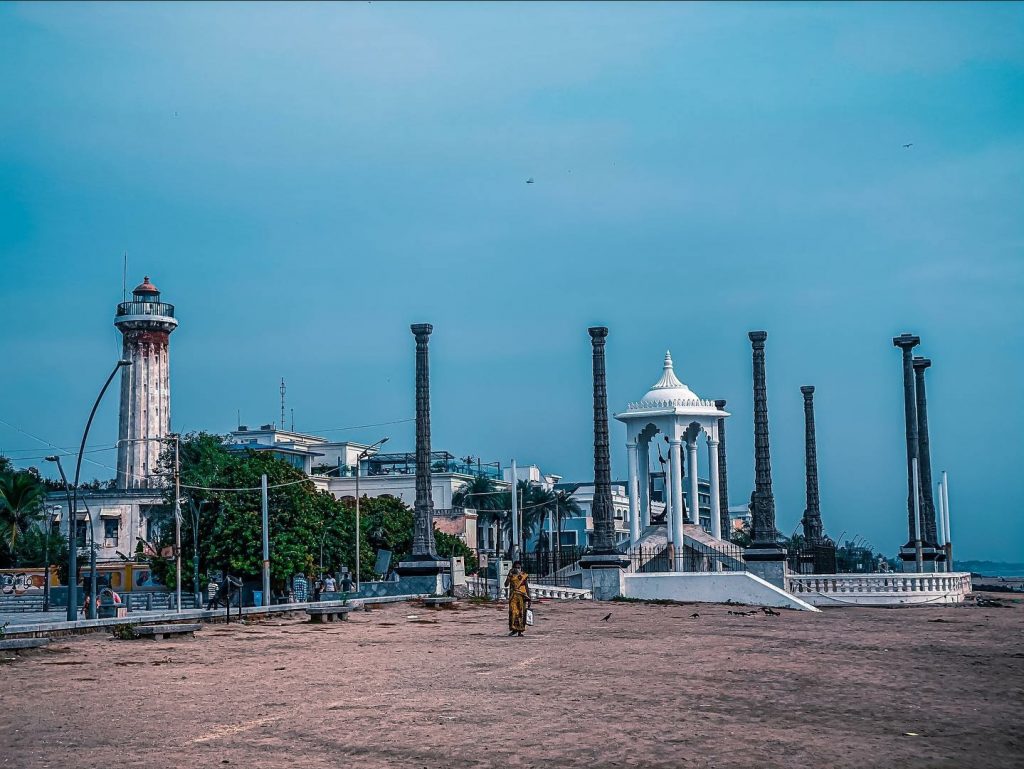 A cute little French-speaking town standing by the ocean in Tamil Nadu is the best tourist place to visit in winter. The town is attached with spirituality that brings the whole world together to practice harmony and become one with their innermost selves through their experimental township called Auroville.
If you are fond of French cuisine, their love for colours and their architecture, love to spend time sipping cocktails in a shack then this place offers a host of beaches to lift up your mood. Along with some of India's quietest and exotic beaches, it also offers pastel-coloured churches, flamboyant cafes and restaurants with exquisite French culinary.
Top beaches you shouldn't miss in Pondicherry:
Quiet Beach
Serenity Beach
Mahe Beach
Auroville Beach
Promenade Beach
Paradise Beach
Reppo Beach
Rock Beach
Cafes to treat your taste-buds in Pondicherry:
Cafés de Arts
Le Cafe
Satsanga
The artika café gallery
Traveller's cafe
Kasha ki Asha
Eat my Cake
2. Munnar: 458 kms from Bangalore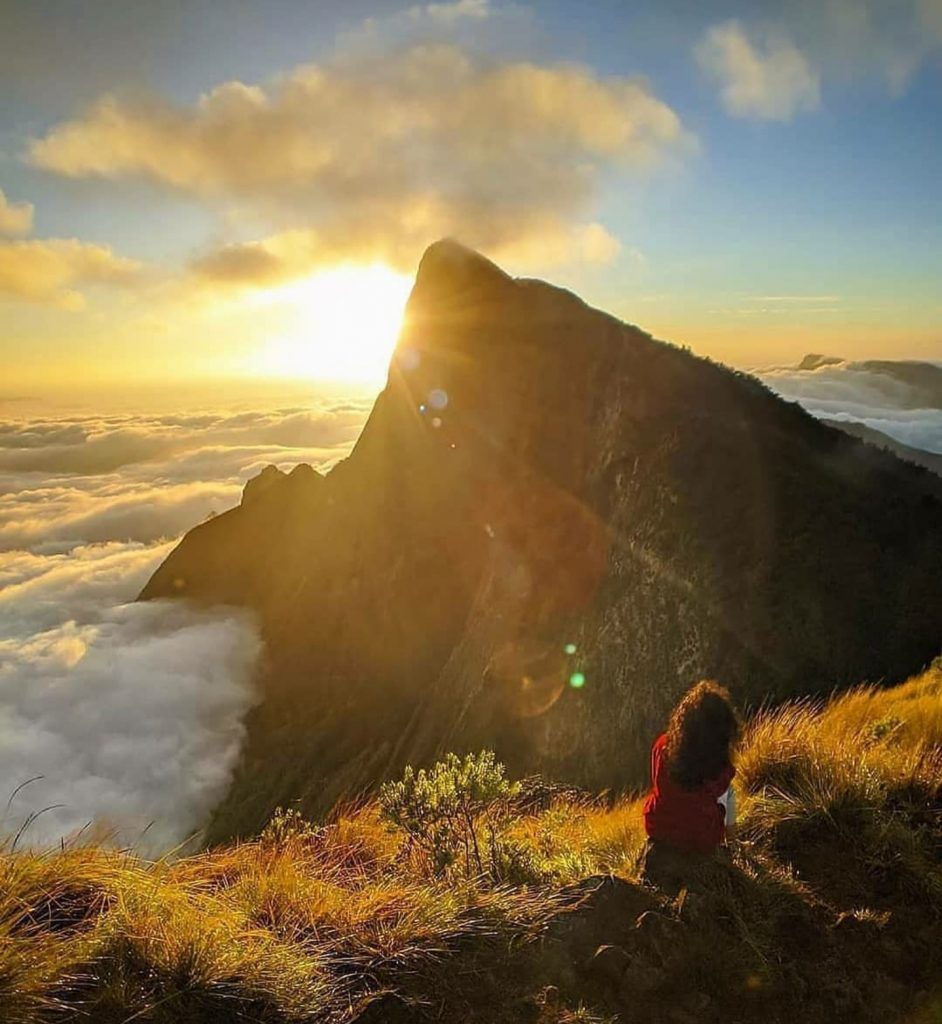 While Pondicherry is on the east side, Munnar, a hill station is located in the western ghats of Kerala. The God's own country blesses us with yet another nonpareils of beauty, situate 1600 metres above the sea level to meditate on.
The tidy little hill station is located at the banks of three rivers, Madupetti, Nallathanni and Periavar and is widely known as 'The Kashmir of South India', making it a perfect vacationing spot in winter. With the production ofvnesrly 21 million kg of tea in India, Munnar has become the tea capital of India. Its relation with tea plantation is so deep that you your travel itinerary of Munnar would not be fun without the visit to the Tata Tea plantation/museum.
Places to visit in Munnar
Kalari Kshethra

A martial arts style originated in Kerala. One of the most recommended performance arts to see in the place.
Fee: 200 rupees.

Top station:

A two and a half hour drive from Munnar, located around 1700 metres above the ground, it promises stunning landscapes and photographic views of the valley.

Tea Gardens:

Learn how the tea production works in this beautiful garden. You get to book a trekking tour.

Rose Gardens:

A reasonably priced horticulture centre is located en route Top Station. A place amassed with some of the most colourful and rare species of flowers.
3. Mahabalipuram: 346 kms from Bangalore.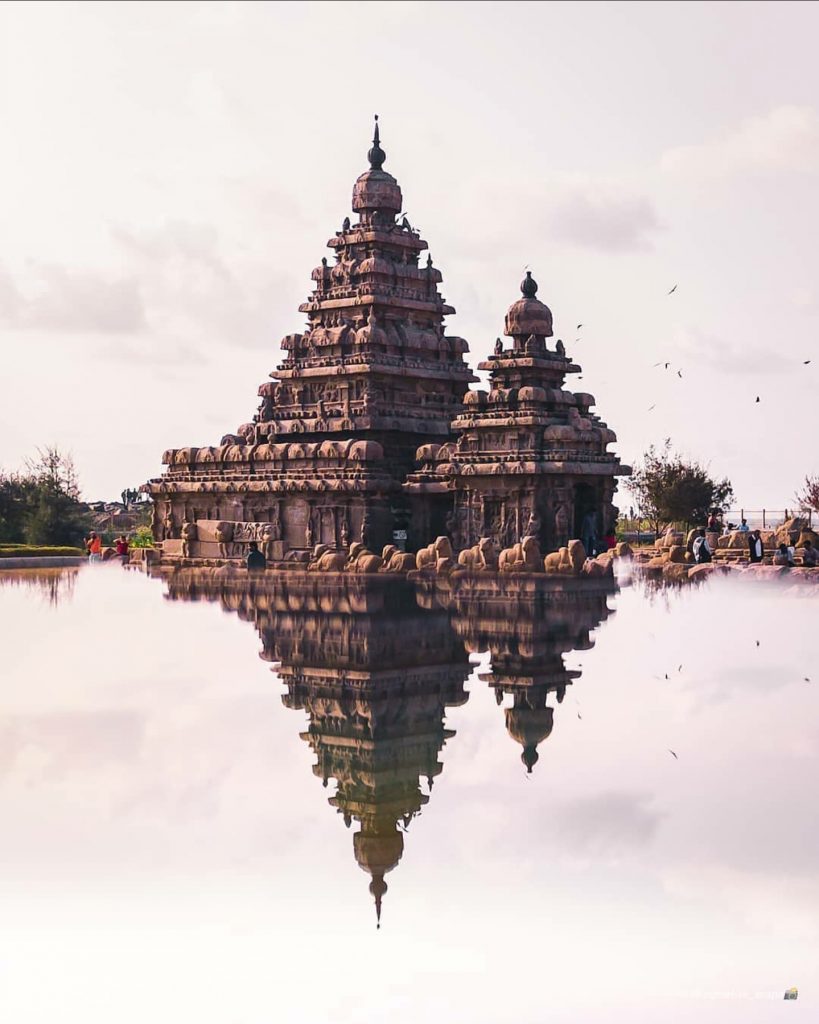 Located on the coromandel coast of Tamil Nadu, Mahabalipuram is a great place to visit in October. Despite its famous Dravidian architectural places, it is mostly known for its pocket-friendly accommodations by the beached and sea-food. It is one of the most significant historical places in South India.
If you are someone who likes to know the history of a heritage site through its architectural design, the dynasty that carried out the construction and reason behind them then choose to travel to Mahabalipuram by all means. You will enjoy every bit of this place especially around winter becasue a lot monolithic structures are in open places making it difficult for children and old people to enjoy them to the fullest.
Sites to see in Mahabalipuram:
Tiger's Cave:

An archaeological site for archeology nerds surrounded by the beach.

Krishna's Butter Ball:

A gigantic granite rock said to have been placed on the slopes around 1200 years ago. A lot people including the British-era governor tried to move its position only to have failed in the attempt.

Arjuna's Penance:

A group of carvings set on two monolithic boulders of 43ft height and 100 ft in length. A place declared as a world heritage site in the year 1984 by UNESCO.

Pancha Rathas:

The architectural genius of the place is that it is carved out of a single rock. A must visit please during winter.
4. Gokarna: 483 kms from Bangalore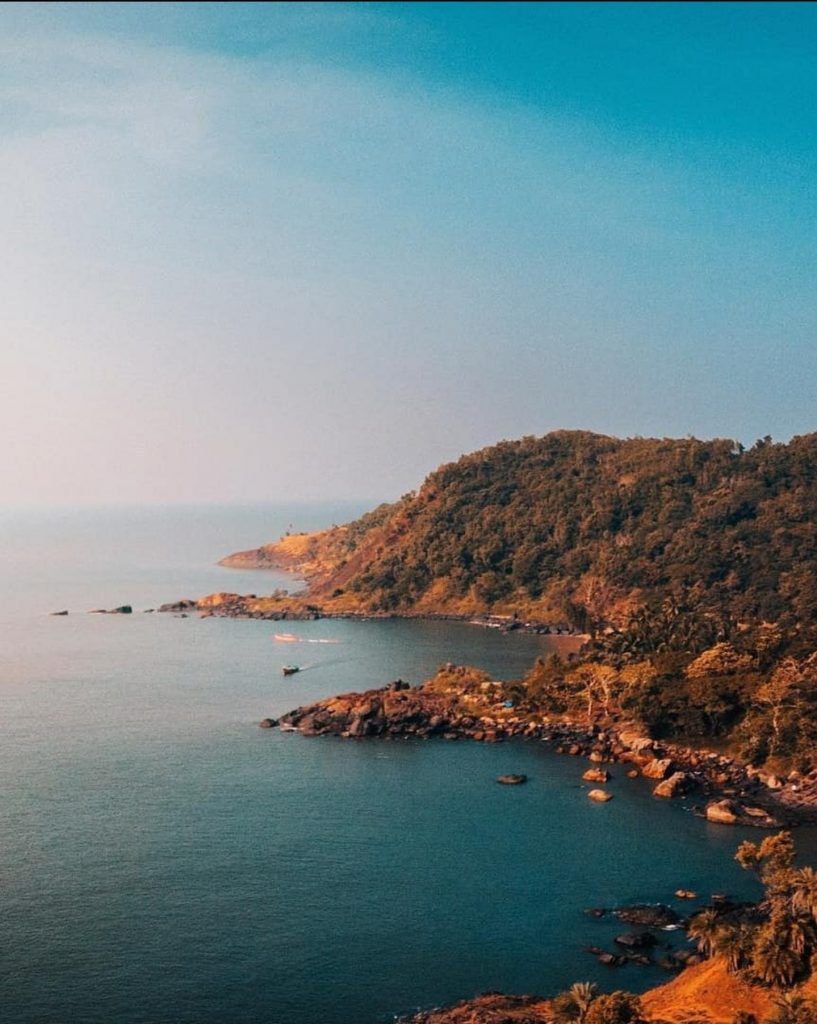 Bangalore's very own go-to getaway destination over a weekend for beach bums and trekkers, but the place hits different during winters. Gokarna offers a range of beaches for everybody. Calm, serene, crowded, laid-back, you will find all kinds of vibes in this small town.
There are plenty of beaches to visit in Gokarna and the tourism department has done a great job of positioning is as Goa but with less crowd and cleaner waters. You will fall in love with the place and its sprightly undertone of Goa and Bali like vibe. The place has mountains for those who love mountains and beaches for those that love watching waves. The coastal line of Gokarna can be covered on foot, making it a perfect destination for backpackers and trekkers.
Beaches in Gokarna:
Om Beach

A chill out beach with limited number of accommodation options. Make sure you have booked yours in advance.

Middle Beach

People visit this beach as a stress buster. There are plenty of options available to stay on the beach.

Main Beach

Place is filled with locals who usually come to spend time with their kids. The most crowded beach in Gokarna.

Paradise Beach

The name stands for itself. It is clean and a serene gem hidden away from the crowd.

Half Moon Beach

The reason it is named half moon is because it is shaped liked one. The green vegetation surrounding the beach is a sight to behold.
5. Ooty: 530 kms from Bangalore.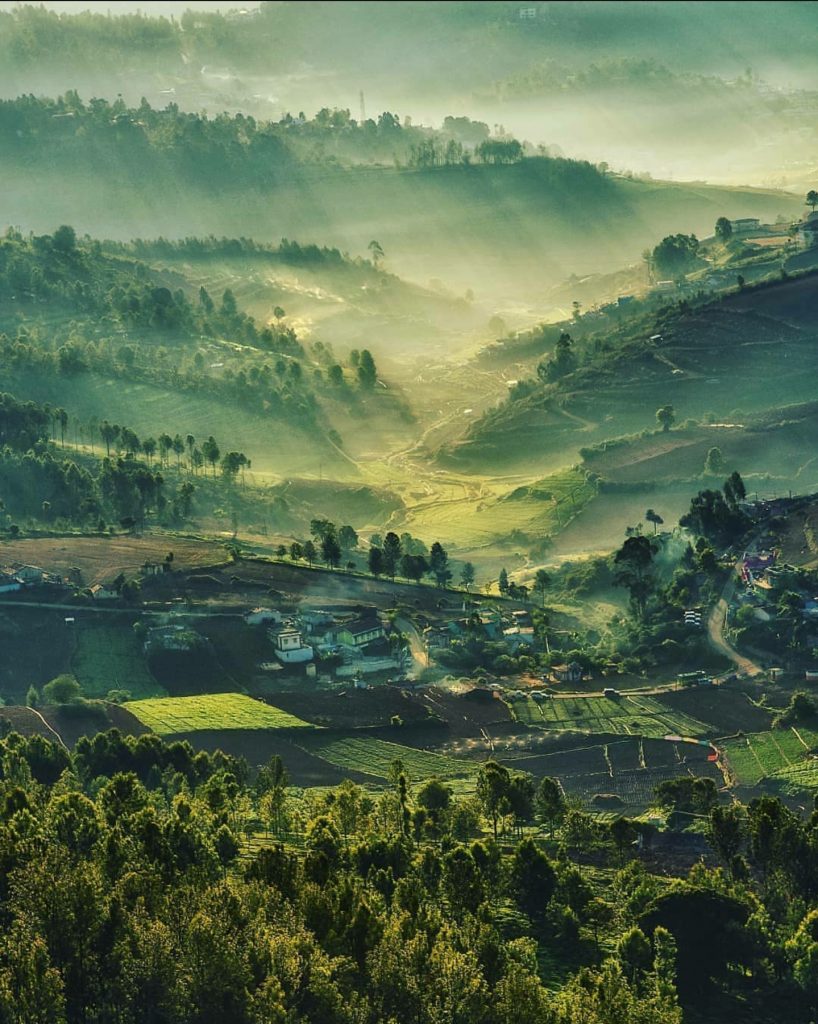 This place is undoubtedly the most beautiful place in South India. A resort town Located in Tamil Nadu is a haven for newly married couples and families seeking to take their kids to a cold place not so far from home during the Diwali or Christmas vacation.
Ooty is beaming with glistening lakes, rich fauna and majestic wildlife to offer you a unique experience. It is one of the top destinations for backpackers in South India. This place gets super busy during winters because of its pleasant weather conditions. Therefore book your stay well in advance for your trip.
Places to see in Ooty:
Ooty Rose Garden:

A garden that exhibits over twenty thousand variety of roses. Some rares ones too.

Toy train:

The first train leaves at 09:15 covering the distance of 46 kms in total to reach Coonoor at 10:25 am. After that, there are three more trains that run in the same route. The last train leaves at 06:00 pm. There are longer trains to Mettupalayam, one stop ahead of Coonoor.

Toda huts:

Toda huts is a temple for Toda community.

Wenlock Downs Ooty:

An enthralling 360 degree landscape with pine trees and mountains at the distance is enough to dazzle you to the point where you'd want to sing a romantic song for your significant other. The place has been in quite a few Bollywood movies.

Stone house:

Ooty's first bungalow built by a British administrator John Sullivan is known to have been a part of modernisation of Ooty. It houses a museum that is derived from a heritage collection.

Dodabetta peak:

A delightful trekking point for trekkers. The peak stands at 2637 metres, making it the highest peak in Ooty and fourth highest in South India after Anamudi, Mannamalai and Meesapulimala. If the mesmerizing view wasn't enough already, there is also a telescope tower at the peak to take you by the storm with its amazing view.
South India indeed covers a huge part of the country and the above places do bare-minimum justice to its rich geography. But, the places make for a great experience if you are looking for a wholesome tour of South India during the winter.
Other places such a Kochi, Bangalore and Alleppey are some great options too, during winter. Kochi is known for its art festivals such as Kochi Biennale which will kick off on December 12th 2020 and go on till 20th March 2021. The art festival will take place in several sites across Fort Kochi including cafés, ports, hosting over 25 artists from around the world.
Along with the exhibitions, there will be seminars, workshops, cultural performances conducted in various parts of the town to introduce people to various cultures around the world as well as encourage people to come together for the sake of art.
Bangalore is yet another option that might work out for you if you wish to spend a week's time exploring the cities different tropes that are enough to leave you with a lifetime of good memories. The city is bustling with parks, cafes, restaurants, and themed Breweries. Wearing masks while going out is compulsory and everybody is expected to maintain social-distancing norms.
There are resorts near 100 kms from the city that are a perfect weekend getaway for family, collegues, and friends. The Gari Resort is one of the best places in Bangalore to reconnect with the wilderness of nature and that within. You can select from a wide range of options available at your disposal for accommodation, adventure activities, and silence-inducing tent stays with campfires. Make your bookings now to get a discount on the most fun-filled experience away from the city and in the arms of nature.