Teamouting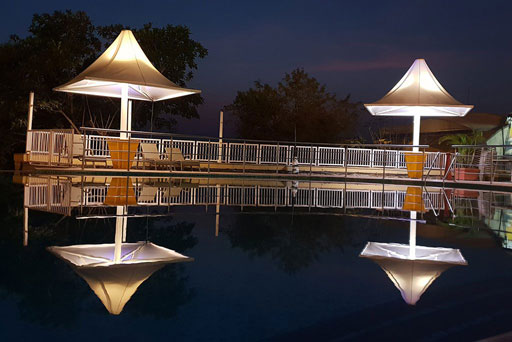 Best team outing places in Bangalore.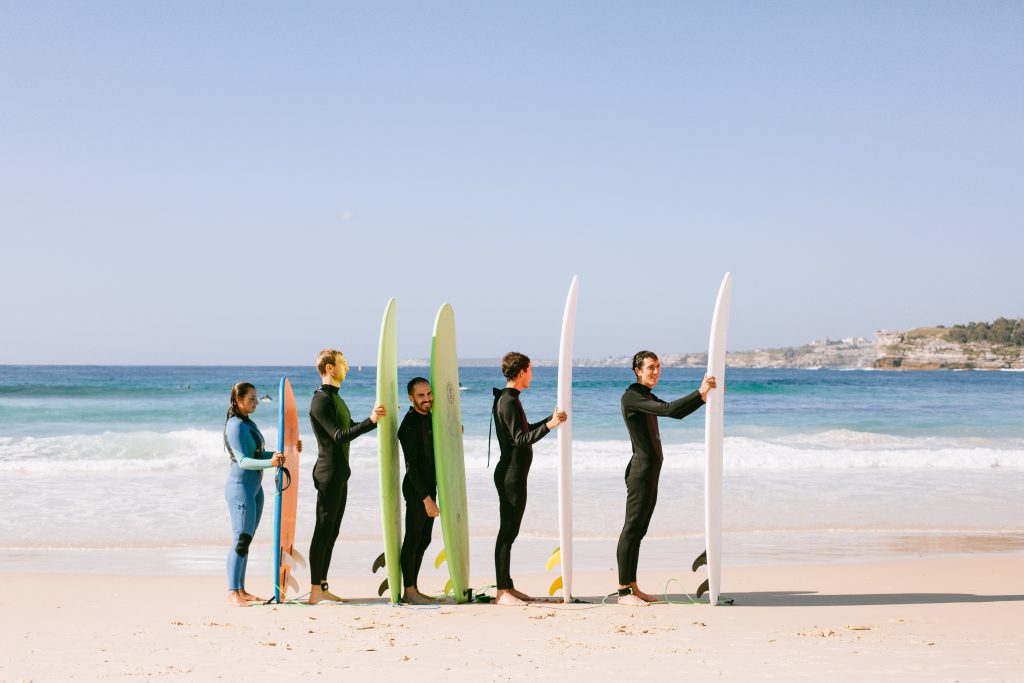 Team outing is not just a way to know your employees but it helps them connect with each other on a deeper level. That is why, employers organise corporate team outing near Bangalore to ensure employee harmonry is maintained all the time. This is only possible with the help of activities and sports that bind them together as a team. It also shows their ability to perform as an individual.
When an individual gives their best at something outside of the workplace, it means they are good at it and can improve with regular involvement. Most often they are not given an opportunity to explore that side of themselves due to work commitments. Corporate team outing is an opportunity for them to display their skills and talents which don't go on par with their work domains.
Humans are social species who like interacting, planning and executing things with each other to benefit individually as well as as a team. In return the employers gauge their reliability as individual performers. Team building activities bring that out in employees. They show what works as a team and what does not. How effective communication can go a long way when it comes to team performance, and how individuals can stick their neck out for each other when their colleagues have a hard time understanding new concepts, ideas, and changes in policies.
Some of the best team outing resorts in Bangalore are within the city reach and come with pre planned exercises for team to know each other better and more clearly.
The Gari Resort.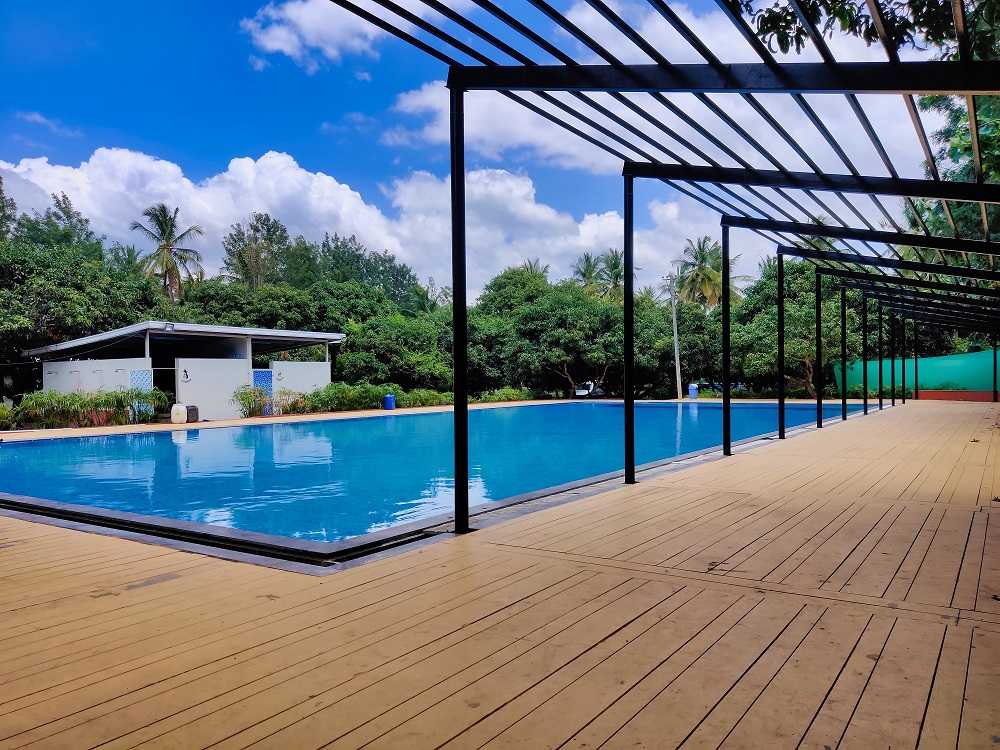 Address: No 211 Banandur village, Ittmadu Post, Bidadi, Karnataka 562109
Alcohol: No
Pet friendly: Yes
The Gari Resort is one of the biggest names when it comes to expecting comfort and luxury. The place is safely tucked in the outskirts of Bangalore with amenities and facilities to cater all individual needs. Companies who wish to spend time with their employees in almost every fashion, book the resort team bonding activities and camping.
Activities.
Zip line
Pipe Bridge
Burma Bridge
Wood Cross
PG Ladder
Commander walk
Multi Vine
ATV Quad Bike Ride
Unstoppable Cross Bridge
Wood Cross
Single line Bridge
Burma Bucket
Triangle
Commando Work
Team outing is defined by the hours you put in activities and the amount of time you spend with your teammates sharing stories. It is a time for the team to unwind and learn new qualities about each other. Learning new qualities and discovering new behaviour patterns helps teams develop individual approach for each and every member of the team who is a part of the organisation.
Luxury A/C Suites.
Price: Rs. 3024 per person (including tax)
Check in time: 01 pm
Check out time: 11 am
Price includes:

Lunch, Dinner, Breakfast.
Seven adventure activities
Six low rope activities
Archery
Camp fire
Magic and mind reading (happens only on weekends)
Flood light games (complimentary only between Monday and Thursday) otherwise Chargeable at Rs. 699 per hour.

10% discount if booked for more than 20 people.
Day outing in the Gari Resort has a decent package deal for those who don't wish to spend the night. It seem to be a great option for corporates. Employees who wish to get involved in adventure activities and sports that keep them motivated throughout the day will have a wide range of options to choose from.
Day Outing Package.
The Gari Full package: Rs. 1699 per adult and Rs. 949 per child.
Duration: 09 am to 10 pm.
Package includes:

Seven adventure activities, six low rope hanging activities and archery.
Pool access, Rain dance, use of standard facilities of the resort.

Flood light games for Rs. 699 per hour on Fridays and Saturdays between 07 pm to 10:30 pm.
Note: All the activities can be performed with a purchase of coupons at Rs. 250. Most coupons get you four activities against one. However, Zip line needs a single coupon worth Rs. 250/-
Our Native Village Resort.
Address: Address: Native, Junasandra, Karnataka – 560089.
I first came across this resort while researching for best corporate team outing resorts near Bangalore and I was blown away by its appearance at first sight. The place is built on the legacy of our childhood. The games we played when we were kids. Sure, most of them didn't make sense back then and still don't make sense, but we always wish we'd go back and revisit some of those memories of chasing kites, running wild on the streets for no reason, and playing hide and seek.
This place is fresh off the boat. It helps us engage in day long activities from our childhood, making us nostalgic with each and every game. All the activities are curated for a fun filled day and make your time memorable.
Activities in The Native Village.
Indoor Games such as Chess, Carrom Board, Kavade Snake & Ladder, Snooker, Huli-Mane aata along with outdoor games Cricket, volleyball, basketball are available for those who wish to play.
Gilli-Danda
Lagori
Spinning Tops
Flying Kites
Cycle Tyre Racing
Milking Cows
Riding Bullock Carts
Making Flower Garlands
Rangoli Designs
Elementary Farming Techniques
Pottery
The games here are sure something. While being thoughtful, they are also cleverly managed, keeping the safety in mind. Come here if you wish to spend time at a place that is a reminiscent of our grandma's place.
Besides the old school games, they have accommodation facilities for every taste bud, yoga centre for people seeking cessation from the toxicity, and specially tailored activities for corporate employees and managers. The property is kid-friendly and pet friendly. So, you don't have to worry about the food and their well being. There are staff that can take care of all your needs.
The Cassava Retreat.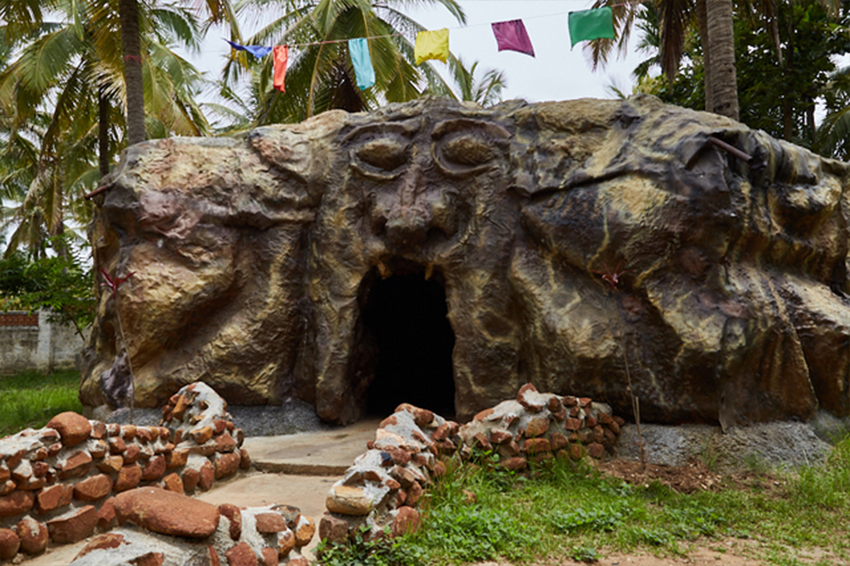 Address: O B Chudanahally Road, Kanakapura Road, Vaderahalli, Near Art Of Living, Bengaluru, 560062
Alcohol: Not allowed.
Pet friendly: Yes.
Imagine placing your feet on the greenest of grass as you walk barefeet early in the morning. Cassava feels the same as stepping on a dewy grass on a chilly morning. Given the time of the year, it is a perfect getaway for a team outing as the cold weather accentuates the place to become more soothing and relaxing for people who love to get away from the humdrum of the daily life.
Team activities are designed to fit all your needs to make memories with your colleagues. It is easily the most fun place to visit with your family given the great deal of services and amenities it offers during the stay.
It is a newly built phenomenon that has a host of activities and sports for kids, families, and corporate employees. while also offering you a much needed comfort in the form of luxurious accommodation if you are seeking a leisure holiday.
Packages.
Camping Package:

Price: Rs. 1100

Price includes:
Access to the swimming pool.
Rain Dance.
Use of standard facilities of the resort.
Seven adventure activities.
Six low rope activites.
Archery.

Timing: 01 pm to 11 am.

Luxury A/C rooms:

Price: Rs. 2000 per person.

Price includes:
Access to the swimming pool.
Rain Dance.
Use of standard facilities of the resort.
Seven adventure activities.
Six low rope activites.
Archery.
Lunch, Hi-tea, and Dinner.
Timing: 1 pm to 11 am.
Non A/C rooms:
Price: Rs. 1900 per person.
Price includes:
Access to the swimming pool.
Rain Dance.
Use of standard facilities of the resort.
Seven adventure activities.
Six low rope activites.
Archery.

Timing: 01 pm to 11 am.
Activities.
Swimming pool
Indoor Games
Outdoor Badminton
Table Tennis
Kids play area
Bon Fire
Rain Dance
Adventure Activities.
Triangle
Commando Work
Pipe Bridge
Burma Bridge
Wood Cross
PG Ladder
Unstoppable Cross Bridge
Single line Bridge
Zip line
Also read: Four ways travelling improves your mental health.
Discovery Village.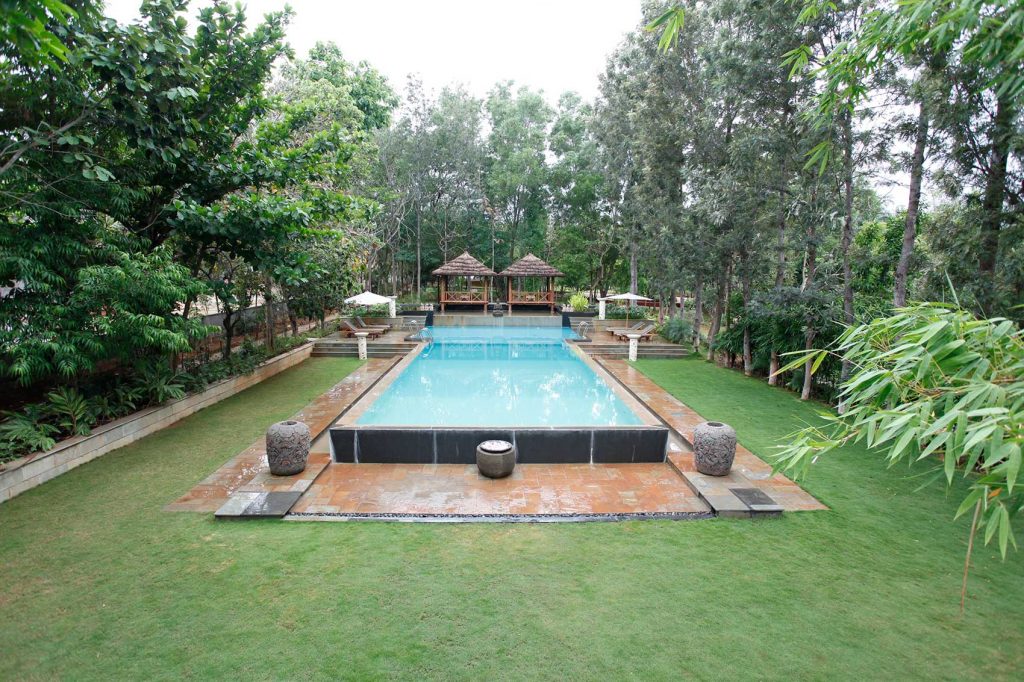 Address: Kanakapura Rd, near The Sports School, Vadarahalli, Karnataka 562112
Turn your time circuits on take a trip to a place back in time. A place where class, luxury, comfort, adventure, traditional vibe, and a home like feel come together.
Discovery Village is yet another gem in South Bangalore's Crown. It is nestled between the beautiful lush green landscape and mountains, and caters majorly to corporate crowd with plenty of adventure and thrilling activities.
There are endless games and activities in this place where you can host a team outing with your colleagues, have a wedding reception, conduct a corporate event, a seminar and even an art workshop
Most of the time we get stuck between two places because when one place has some facilities it lacks a few of what we need while others all the facilities but lacks the primary ones. This is the place that makes up for all those corporate team outing places in Bangalore and offer you just about everything you need to have one of the greatest travelling experiences of all time.
Activities.
Tree Discovery Trail
Rappelling
Cave Explore
Karaoke Night
Team Building Activities

Zeguza
Intie Me
Twister
The Big Picture
Outdoor Chess
Tower Hanoi
Shapes and Colours
Target Shooting
Pipe line
Key Punch
Hands and Legs
Insanity
Cross over
Big foot
Bull Ring
Blind Square
A Frame
Bazooka
Drum jam
Helium Stick
Land Mine
Paint Ball
Barrels and Planks
Blindfolded Key Punch
Group Skip
Human Web
Moonwalk
Pipes and Marbles
Space Ships
Warp speed
Hunter Rabbit Eall
Window of Opportunity
Kayaking
Juguja
Zipling
Zorbing
All the above activities need large number of people to execute the games to fruition. That is why the place is a goldmine for a perfect team outing in Bangalore. It is one of those resorts where everything is a perfect blend of old times meet new luxuries.
The Silver Oak Resort.
Address: Silver Oak Resort.
23rd Km, Bangalore-Doddaballapur Road, Rajankunte, Bengaluru, Karnataka – 560 064.
Team outing is a way to learning your strength and weaknesses and understand your colleagues' likes and dislikes which helps build a stronger team and showcases diversity. Team games helps build our skills such as leadership, active participation, helps us respect the diversity of people.
Since the lifting of restrictions, Silver Oak has started gaining momentum again and people have started to grace the place with their presence. Corporate day outing in Bangalore has already started as employees are now called back to work from their work desks. If you are an employer wishing for your team to reconnect with each other like before, take them Silver Oaks and let them have a great time bounding with each other while taking part in day and night long activities.
The Silver Oak Resort is where the fun and adventure begins during your team outing in Bangalore. If you are someone who has been working from home all this year and never had a chance to go back home, Silver Oak is the exactly where you must be to fill the void this year had left on you. The place is well built and properly managed by the staff working there.
Along with a barrage of activities, the resort also specialises in overnight camping facilities with quality traditional food and dance activities. This also makes a great family gathering place for people who wish to take their family on a weekend trip.
European Plan for Rooms: (Accomodation only)
Single Occupancy: ₹ 5,000/-
Double Occupancy: ₹ 6,000/-
Triple Occupancy: ₹ 7,000/-
Service charges and Govt. Taxes Extra.
European Plan Cottages:(Accomodation only)
Single Occupancy: ₹ 6,000/-
Double Occupancy: ₹ 7,000/ –
Triple Occupancy: ₹ 8,000/-
Service charges and Govt. Taxes Extra
Activities.
Billiards
Outdoor Badminton
Table Tennis
Slide and Fountain
Joggers Park
Volley ball
Children's play area
Squash Court
Gym
To know more about their various corporate, wedding, family, day outing package details, click here
All the places have a strict Covid-19 policy. Guests should furnish a Government ID proof before commencing stay.
Children aged between 5 to 12 years charged half the price, below the age of five, there are no charges.
Most of them have an in-house bar so they don't allow outside beverages and eatables follow strict covid guidelines.
If you like what you read then please consider subscribing to our blog posts by entering your email address below!
We promise not to spam!