Dayouting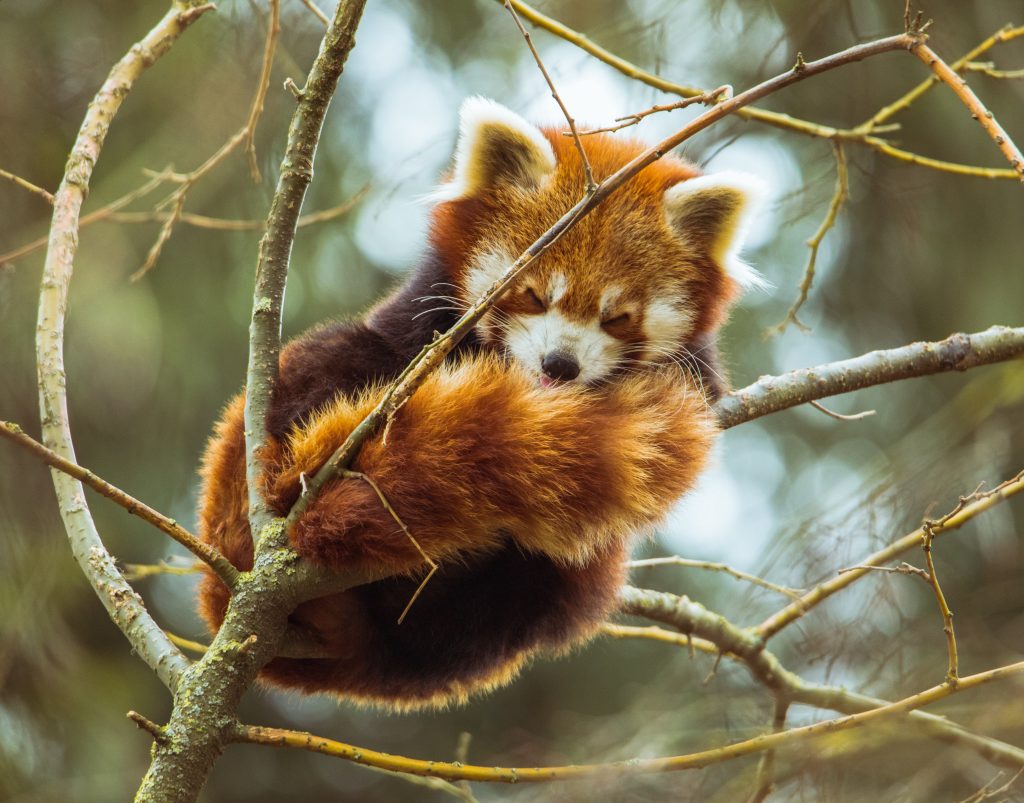 Good resorts near Bangalore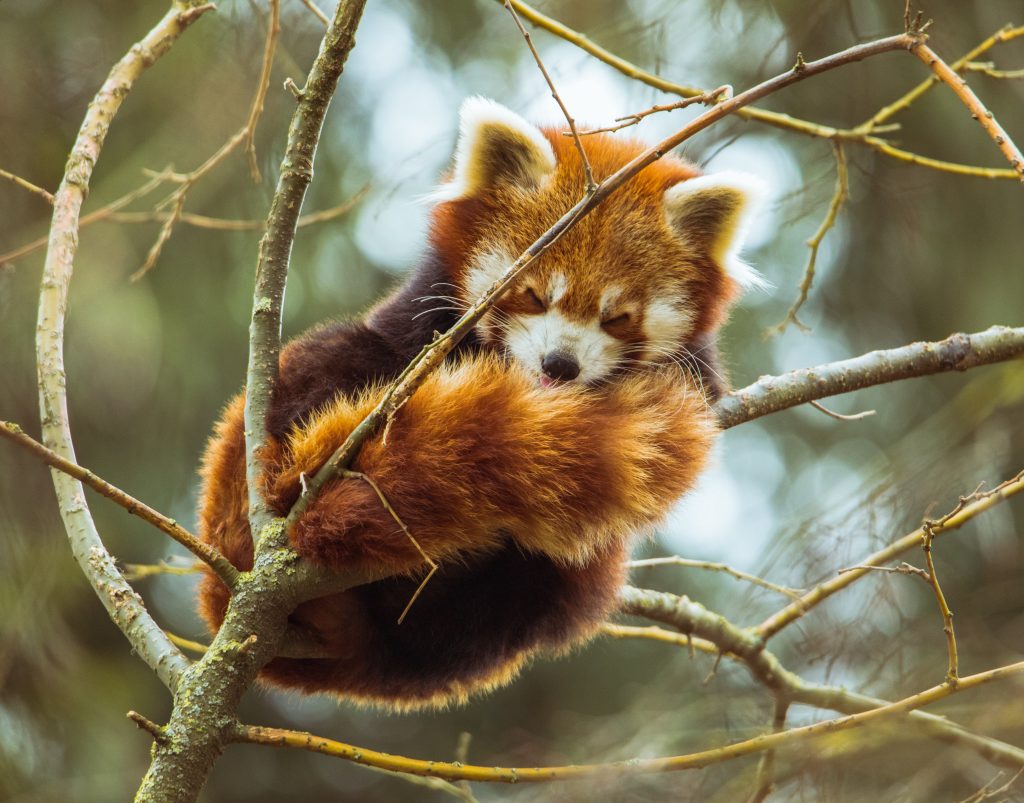 Have you ever done the right thing for the wrong reason? Like go to some good resorts near Bangalore and slept throughout your stay? Sometimes it is the most productive thing we can do. Sleep makes most things happen. We do not get a lot of chances to sleep peacefully, with less or no stress. To go somewhere nobody can find us and sleep away our worries and thoughts about what is happening and what is going to happen.
It might not make sense to others, because it does not have to. People are on a different journey than you. There are chances that you might not understand them or their choices either. Mainly because our outlook towards everything is different. Our lives, jobs, circle, and tensions are different from other people.
Some want to make the first impression, while some take things slow, let it brew. Both are enough for their own good. People need time, and convenience to make decisions. Only when they are comfortable do men or women let people in their lives. Imagine you go out with your colleague for shopping one weekend. You both meet, ask each other how their day was, and proceed to the shopping hotspot in the city.
You connect over latest office gossips, movie trivia, and debate over whether aliens have already landed or not. As usual, it was a fun conversation. A gem of a weekend after all the boring ones you've had all year. It had all the flavours one needs to call it a perfect weekend. The only thing that's left is food.
You haven't had a chance to grab a quick bite amid all the fun. It's too late to go to a restaurant and wait for the order. Take away seems to be a suitable option. You can drive and eat and once you have reached home, you can just crash in your bed without a second thought. Wake up fresh and get ready for work the next day. Both of you decide to get a takeaway from an eatery. Both you start eating as the one drives. You both finish your food and drink you ordered to wash it down with. As soon your friend finishes their last sip, they open the window and throw away the food cartons.
Everything you talked about. Movies, shows, conspiracy theories, parties, past workplaces and cultures, everything now means nothing. It's all gone down the drain. Or, let's say, thrown away in the middle of the road like there will be someone standing to clean up immediately. Now, you dislike the person. Not because what they did was petty. It was not. It was irresponsible. You cannot blindly or blatantly litter. There is no need of confrontation with such people. The plain and simple explanation is that you should not litter just because you pay taxes and feel entitled.
The moral of the story is: sometimes we can judge people in just one meeting and at times, we need to make exceptions. That being said, a person who litters or throws away rubbish in places where they shouldn't be, are the most irresponsible and non-rebellious person. Reason that, if you don't like the way things are, try not to add to the insult to the injury. There are ways to be a non-establishment person for your government to start noticing. To show your rebellion by littering, is definitely not one of them. It puts you in a slippery slope where you have nowhere to go but downhill with that attitude.
When the country is trying its best to combat the unnecessary littering and introducing new ways and techniques and disposable methods to treat your rubbish, it is really not that hard to follow the new wave of Clean India movement. States are overwhelming with NGOs and state governments trying to make the infrastructure neat by investing lakhs of rupees in its maintenance, hiring cleaners, sweepers, importing heavy machineries. Amid all this, the least we can do is not vandalize them or litter on the streets.
According to a news article, the swachhta mission, which will be spread over the period of five years, is allocated a budget of Rs. 1.141 lakh crore. The government intends to focus on waste management and reduction in single-use plastic. In Bangalore, it is highly likely that plastic may not be available for use, including all the budget or good resorts near Bangalore you visit for holidays.
Resorts near Bangalore have to adhere to the policies laid down by the governments on plastic bans and Covid-19 protocols. Keeping a safe distance from each other and using all the precautions within your power to not contract or pass on the infection while on your visit. Make people feel safe when they are around you. Keep safe distance. Be someone who thinks about progress relentlessly and hopes that things will get better, and advocates getting vaccinated, not because the government has said it, because it is good for people they care about and close to.
Once you are vaccinated, you can take liberties to travel in and around the state. Visit few nice resorts near Bangalore that help you escape the reality. At times when you are too lazy to look for places to chill outside the city. Or, to book tickets, you can easily convince yourself to make your way to some great resorts near Bangalore that come in handy for a weekend getaway. Let's take a look at some such resorts near Bangalore area that aid our ennui and ephemeral grief.
The Gari Resort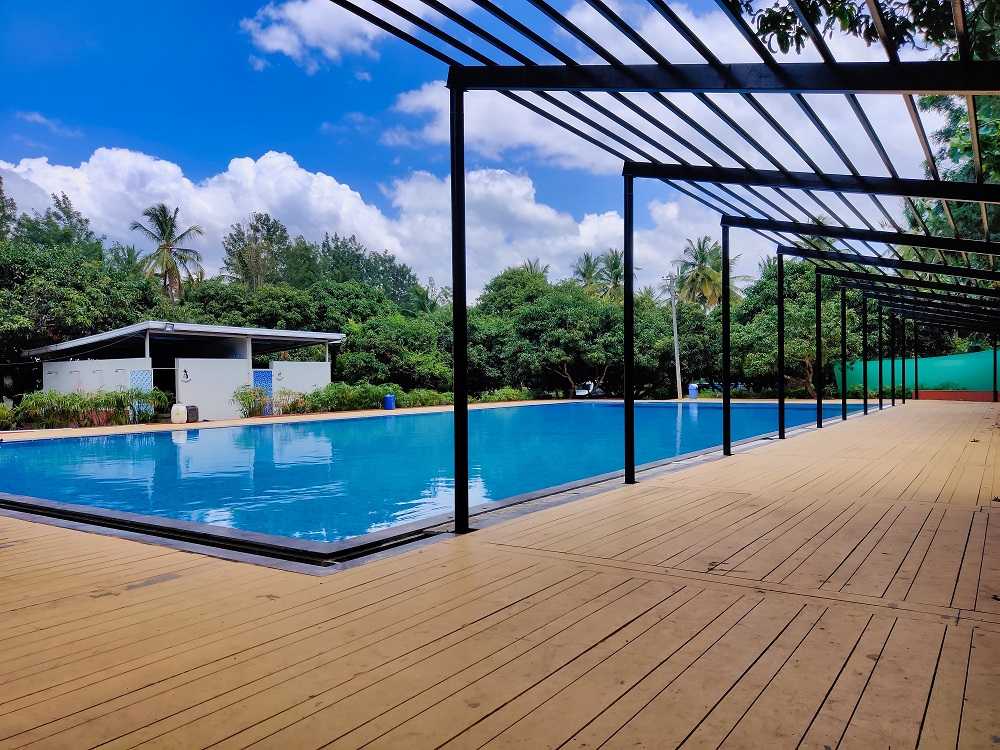 "Pyaar, pyaar is to chill!" this line from the movie Kal Ho Na Ho is the most relatable Bollywood has got. And started a new wave addressing everything. The statement applies to everything. Even Life. Life is to chill most of the time and while doing that, adhere to all our time schedules and routines. The most important thing here is to take care of ourselves. Take care of our mental and physical health. We tend to miss out on important things that make or break our moods way too much.
Listed among the best resorts near Bengaluru, Gari Resort is a place to chill. It is a place to make the most of. Sleep and activities. A perfect place for an adventurous night out with your friends and family. It is a huge expanse spread across land. It is not too far from Bangalore city. Because the air in open areas is fresher, they are safer than most closed areas, and the chances of transmission are lower because people can maintain distance while speaking to a crowd.
There are some place that you should go with your office colleagues. Gari Resort is one of the places you should definitely visit with your office colleagues for a night out or an annual/semi-annual celebrations. Corporate team outing is a great activity to loosen up with your colleagues. You get involved in some wonderful team building activities and get to know a lot about your colleagues.
Corporate team building exercises teach us many things, It's entertaining. You are a spectacle for a really large number of people. It is perfectly acceptable to participate; winning and losing are secondary considerations. The act is significant. The build-up is more intriguing than the outcome. This is true even at family reunions and friend reunions. Rekindling the joy of participating in a game with your friends is what makes the games so appealing in resorts like these.
Activities.
Zip line
Pipe Bridge
Burma Bridge
Wood Cross
PG Ladder
Commander walk
Multi Vine
ATV Quad Bike Ride
Unstoppable Cross Bridge
Wood Cross
Single line Bridge
Burma Bucket
Triangle
Commando Work
Accommodation in The Gari Resort.
A/C Dormitory accommodation.
Price: Rs. 2464 per person (including tax)
Check in time: 01 pm
Check out time: 11 am
Price includes: Lunch, Dinner, Breakfast.
Seven adventure activities
Six low rope activities
Archery
Camp fire
Magic and mind reading (happens only on weekends)
Floodlight games (complimentary only between Monday and Thursday) otherwise Chargeable at Rs. 699 per hour.
Area 83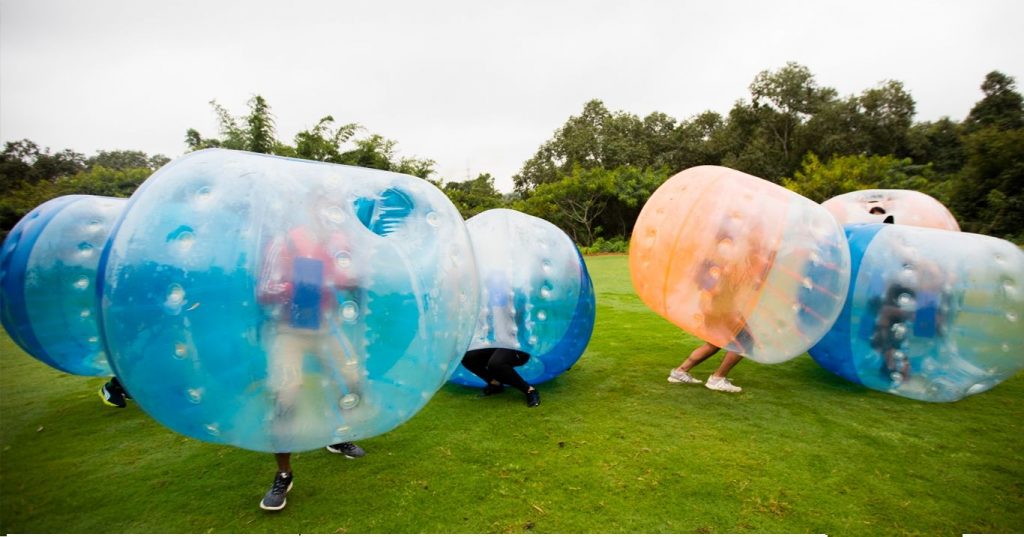 Address: 313, Bannerghatta road, Shanbhoganahalli, Bilwaradahalli, Karnataka — 560083
Don't let your busy schedule stand between you and this experience.
The resort Area 83 is named after the postal code of the place. It's a great place for a team outing or a get-together with friends. There are adventure activities available in this place, it goes without saying that they are absolutely worth trying. You will surely enjoy some of the team activities such as bubble soccer.
The most popular activity was the giant swing. A clean and safe environment for children. There is a play area for children. Human Foosball is yet another popular team sport. Boating and kayaking were available. For daytime consumption, you can get involved in archery with your team.
Some of the best activities for a resort near Bangalore. You should try the place for the activities and the hospitality, plus, food. Food is what makes the place shine brighter than the rest. Make this place your home with your colleagues at a pocket-friendly price for a weekend, you will not regret it.
The individual gold package:
Price: 2300/-
Breakfast: 250/-
Individual Silver Package:
Price: Rs. 1600/-
Breakfast: Rs. 250/-
Note:
Kindly note that our swimming pool is currently closed until further notice in accordance with our COVID-19 protocols
Booking in advance is mandatory
Lunch and Hi-Tea is included in all adventure packages
Timings for all adventure packages are between 10am and 6pm.
Swimming Pool timing for adventure packages is between 11am and 4pm.
For more information, click here.
The Cassava Retreat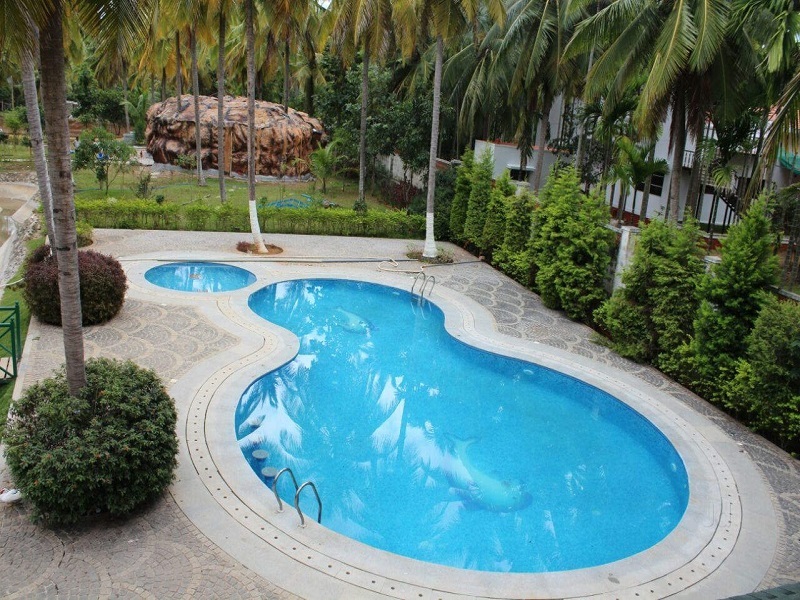 Address: No 144/5, 145/3, O B Chudanahally Road Off Kanakapura Road Vaderahalli, Bengaluru, Karnataka 560062
Therapy is expensive. That is why we have holidays. For holidays, there is no better place than Cassava Retreat. Simply because what it offers to recuperate and rest. We mistake holidays for getting little work done. Most people work more in their off days than they do in their entire week and wear themselves down to the point of exhaustion where they lose their ability to make correct judgements. That is why, it is necessary to plan your work days, so you don't get tired or fatigue due to working more than your mental or physical capacity. Timely breaks and change in the scene does that for most of us.
Always take a planned holiday. It is acceptable, however, if you do not plan ahead of time and decide to go on an impromptu trip, come to Cassava Retreat, among the good resorts near Bangalore. You will have enough time to stay overnight and get involved in adventure activities with your friends, and dance to some really cool music at rain dance. It is without a doubt a better looking resorts in Bangalore that serves its purpose of giving you a great time. When it comes to hospitality and on-the-spot service for guests, the Cassava Retreat stands out as a shining example. Going on a holiday and taking part in recreational activities outside your usual interests, not only improves people's lives, but it also improves their sleep quality.
Adventure Activities.
Triangle
Commando Work
Pipe Bridge
Burma Bridge
Wood Cross
PG Ladder
Unstoppable Cross Bridge
Single line Bridge
Zip line
Suitable accommodation Package for your stay
Luxury A/C rooms:

Price: Rs. 2000 per person.
Price includes:

Access to the swimming pool.
Rain Dance.
Use of standard facilities of the resort.
Seven adventure activities.
Six low rope activities.
Archery.
Lunch, Hi-tea
Dinner
If you like what you read, please subscribe to our newsletters. You will be informed every time there is a blog about news added good resorts near Bangalore or in the Kanakapura area.