Resorts around Bangalore for Night Stay
A good cup of coffee, a pair of comfortable pyjamas and a decent book are all you need to spend your long holidays in resorts around Bangalore for night stay. Or, any place, for that matter. You could be at home, cancelling all the plans for the long weekend with friends and colleagues, it is okay. It is completely fine to make your own decisions. Even though the fear of losing is greater in some cases. It is completely okay to realize that you need space, that you deserve the comfort of your linens and freshly washed bedsheets. A place or a corner, your favourite one in your house, to cosy up makes for good memories too.
We underestimate what qualifies for memories most of the time. People think only exciting things determine the longevity of memories. Memories shape your future. But, memories don't work that way. You can step out and have a good time, and you can make memories doing simple things, too. For example, you manage to bake that cake you have been thinking about, and your Instagram friends find the cake delicious. It paints a picture of a beautiful memory surrounding a really long part of your life. Memories are singular. They draw you away from negative energy and boredom. Some memories do take a lot from you, but eventually it is the good ones that matter more. Pay attention to them. Try to remember as much as you can, so you don't feel that you have nothing to fall back to.
Although, staying at home and reading a book is a way of reminiscing about it in the future. We realize how important these little activities are when we can't bring ourselves to do it again. Those memories, which may seem boring to others, suddenly become the most important elements of our life. The memories that make us humans. These kinds of memories bring the solace when we are fidgety. Having said all this, there are different kinds of memories. Short, long, implicit, semantic, episodic, procedural memory, visual-spatial, and auditory memory. What we are focusing is semantic memory.
For example, if you wish to give yourself and your friends a slight change in their environment, take them to a place where all your experiences are different from one another. For example, you visit one of the resorts around Bangalore for night stay, and indulge into activities. Their experiences and words they choose to describe the incidents that took place with you and them, will be different from how you describe the incidents. It is one of the best experiences, to have your friends by your side during such outings.
All your friends had fun. All of you enjoyed all the same. You screamed, you cracked jokes, danced under the rain dance, played flashlight games, and sat around the camp fire throughout the night. You were together all the time, ate together, dove in the swimming pool at the same time. But, things are different for all of you now. You experienced things differently. Everyone remembers a different part of the stories. Everybody has their own versions of retrieval information. All of you will remember different moods, expressions, and mannerisms of your friends. You might think your friend was drunk, but another friend of yours might see it as you were drunk, that is the reason you thought the friend was drunk.
You must try it, go together with your friends, do a day outing in Bangalore resort and have all the fun, then try to recount the memories one by one. It is fun exercise and the best way to learn, the memories our brain moves to cache in the process to make space for new memories. It is amazing how our brain does that and still manages to retrieve old information within no time. Resorts in Bangalore make for a great show to put on as they come with a host of options in adventure as well as recreational categories. If you wish to make your weekend a memorable day with your friends, we list down the various resorts available for your nightly stay and resorts that provide food, games, and better hospitality.
Remember, you are totally allowed to have your own version of enjoyment in all these places. Definition of enjoyment and fun differ for different people. What might be fun for you inside a pool, may not be fun playing the high rope games. Allow yourself and your closed ones to be free enough to indulge in the game of their choosing when they arrive in one of the resorts around Bangalore for night stay. Fun starts with freedom. Whether you are at a staycation or with your family with your kids, resorts in Bangalore are always a safe choice as they offer everything under one roof in a package.
Let's take a look at some best resorts around Bangalore for night stay and other fun-filled activities.
The Gari Resort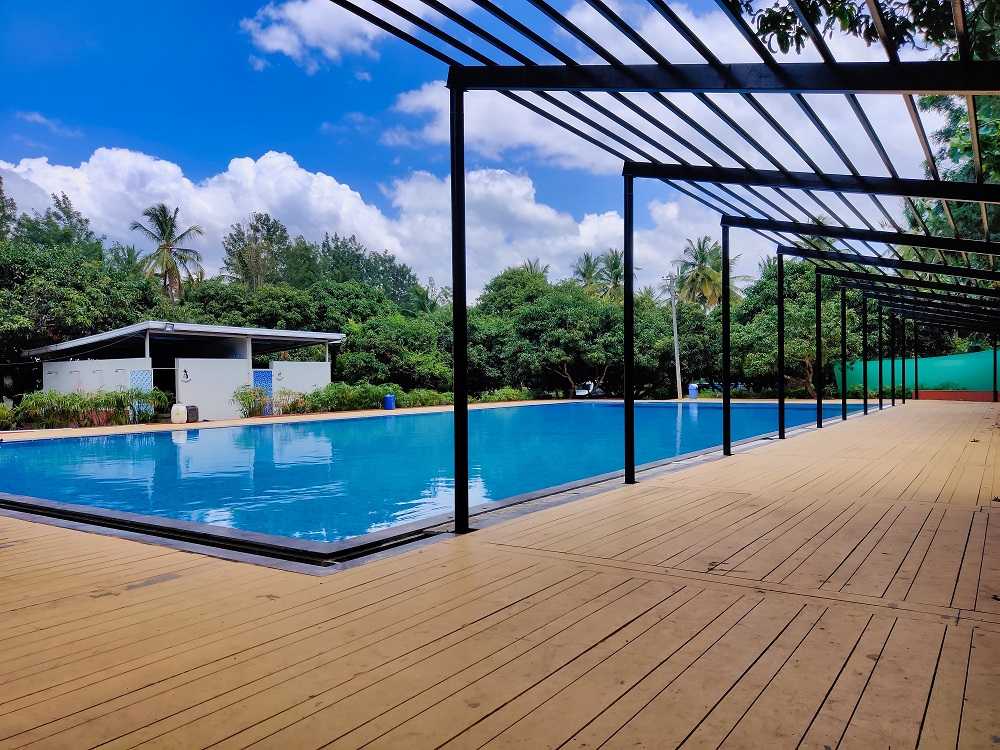 Address: No 211 Banandur village, Ittmadu Post, Bidadi, Karnataka 562109
The Gari Resort welcomes a large number of people at once. It is the place's forte to cater to crowd of more than 20 people. Plus, you get discounts, both early bird and for larger groups. It is situated near Kanakapura Road and offers more than any other place in the neighbourhood with the same tariff. The place is known for its top-tier hospitality and expertise in hosting various family events such as weddings, Mehendi, engagements, and birthday bashes along with bachelor and bachelorette parties. Besides being a place for functions, it also offers for corporate team outings people seeking peaceful getaway for weekends.
It is a resort for having fun and being relaxed and happy, even if it is only for a weekend. Even if you are all by yourself. Gari is more than a place. Gari is an experience you are meant to have at least once. And, when you have that singular experience alone or with your work colleagues or friends, you will want to visit again, this time with friends or even larger group because of the fun ensues thereafter.
Having said that, it also provides a wide range of amenities and adventure activities. The Gari Resort has a/c and non-a/c rooms with top-tier facilities that are unrivalled in the city. It unquestionably raises the bar in terms of comfort.
Team Outing Activities:
Zip line
Horse ride
Pipe Bridge
Burma Bridge
Wood Cross
PG Ladder
Commander walk
Multi Vine
ATV Quad Bike Ride
Unstoppable Cross Bridge
Wood Cross
Single line Bridge
Burma Bucket
Triangle
Commando Work
Accommodation in The Gari Resort.
A/C Dormitory accommodation.
Price: Rs. 2464 per person (including tax)
Check in time: 01 pm
Check out time: 11 am
Price includes: Lunch, Dinner, Breakfast.
Seven adventure activities
Six low rope activities
Archery
Camp fire
Magic and mind reading (happens only on weekends)
Floodlight games (complimentary only between Monday and Thursday) otherwise Chargeable at Rs. 699 per hour.
Tent options in The Gari Resort
Price: Rs. 2128 per person (including tax)

Check-in time: 01 pm
Check out time: 11 am

Price includes:

Lunch, Dinner, Breakfast
Magic, Pottery, and mind-reading (happens only on weekends)

Floodlight games (complimentary only between Monday and Thursday) otherwise Chargeable at Rs. 699 per hour.
10% discount if booked for more than 20 people.
Discovery Village Kanakapura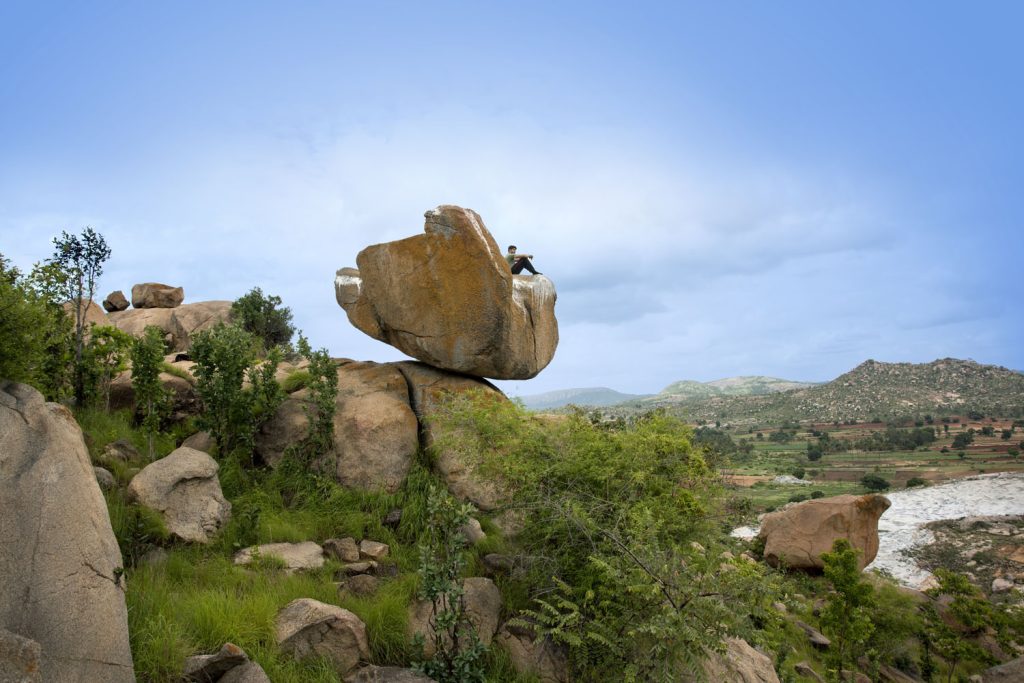 Address: Kanakapura Rd, near The Sports School, Vajarahalli, Karnataka 562112
Discovery Village Resort is, at best, a great place to embrace the wilderness in its truest form. Kanakapura is known for its natural resorts in Bangalore. Discovery Village only makes Kanakapura a perfect location to spend with your friends having the utmost fun and make some long-lasting memories. It works best for a weekend getaway if you wish to stay inside the city corridors but away from the clamour and the noise of the city life.
It is like therapy for those looking for adrenaline-infused activities without having to spend a lot of money. Similarly, Discovery Village is a great adobe for people in need of some quiet and lay low from all the stress and office calls and other responsibilities. Working from home? This is a place to make your official coworking space. Need a landmark place to office outing? No need to look any further, come to Discovery village with your colleagues and get to know to them better as they take part in all the team building activities and adventures games within the property.
Activities and packages in Discovery Village
Tree Discovery Trail: From INR 1180 /- per person onwards

9 AM: Breakfast
10 AM: Group photo and welcome brief
10:15 AM: Energizer session and icebreaker
10:30 AM: Tree Discovery Trail
1 PM: Lunch
2 PM: Complimentary premium activity (rope challenge/pottery/Archery) + Fun Team Activities (indoor or outdoor game) + choice of paid activity (paintball/target shooting/zorbing)
4:30 PM: High tea
5 PM: Indoor or outdoor games
6 PM: Check-out
Barbecue and Bonfire: From INR 4720 /- per person onwards

For information on this click here
To learn about the various packages supported by Discovery Village in Kanakapura road, click here.
The Cassava Retreat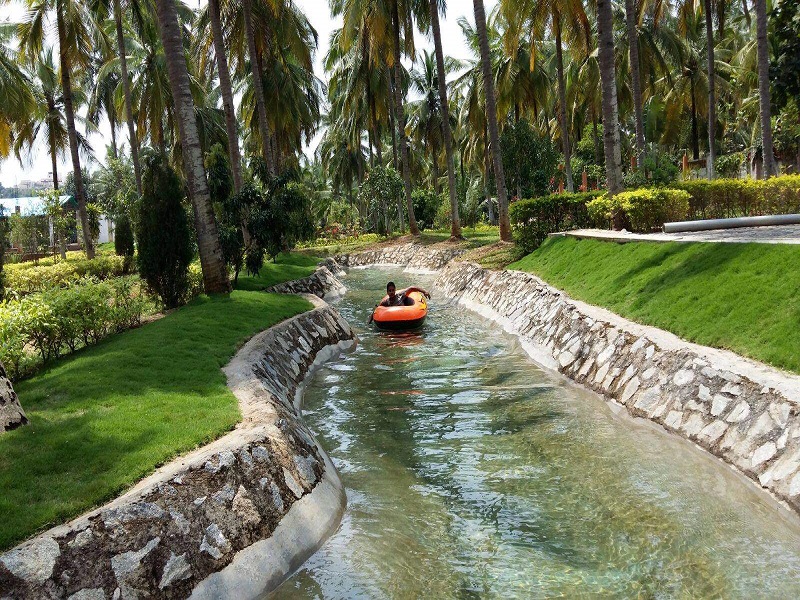 No 144/5, 145/3, O B Chudanahally Road Off Kanakapura Road Vaderahalli, Bengaluru, Karnataka 560062
The Cassava retreat is an idyllic place for a family holiday. Not more than 50 KMS away from Bangalore, this place offers a variety of activities for adults, and adults in group. If you are looking for a place that can cater to larger number of patrons who have come for a team outing, Cassava Retreat is a better option in Kanakapura road because it can house more than 100 people at once. They have experts who understand the various need for team building games and offer a tailored package with activities that will boost your team's creativity, leadership skills, and strategy-building.
The one of the few reasonable resorts near Bangalore for night stay where your family can have a good time looking at stars from the tent and play a wide array of games: both inside as well as outdoor games. It is indeed a perfect spot for your kids to indulge in activities they might not find in any other settings such as home or schools.
They offer bespoke accommodation options based on the number of people in the group and occasions you are visiting the budget resort in Bangalore for. Since the place can house larger groups of people, it hosts family functions such as weddings and engagements.
If you are someone who enjoys outdoor functions or open air events, this is an ideal place to host such parties. The property is not that far from the city. Hence, it is easily driveable. It has easy connectivity from metros and other public modes of transports. Lastly, the hospitality of the place is its priority. The fine dining experience is a cut above the rest, and the open air experience makes any even a singular experience. Make sure to check the photos of the place here.
Interesting activities
Triangle
Commando Work
Pipe Bridge
Burma Bridge
Wood Cross
PG Ladder
Unstoppable Cross Bridge
Single line Bridge
Zip line
Packages for accommodation.
Camping Package: Price: Rs. 1100
Price includes:
Access to the swimming pool.
Rain Dance.
Use of standard facilities of the resort.
Seven adventure activities.
Six low rope activities.
Archery.
Timing: 01 pm to 11 am.
Luxury A/C rooms: Price: Rs. 2000 per person.
Price includes:
Access to the swimming pool.
Rain Dance.
Use of standard facilities of the resort.
Seven adventure activities.
Six low rope activities.
Archery.
Lunch, Hi-tea, and Dinner.
Timing: 1 pm to 11 am.
Non A/C rooms: Price: Rs. 1900 per person.
Price includes:
Access to the swimming pool.
Rain Dance.
Use of standard facilities of the resort.
Seven adventure activities.
Six low rope activities.
Archery.
Timing: 01 pm to 11 am.
The packages include food, depending which one you choose based on your budget. There are discounts offered year around.