Dayouting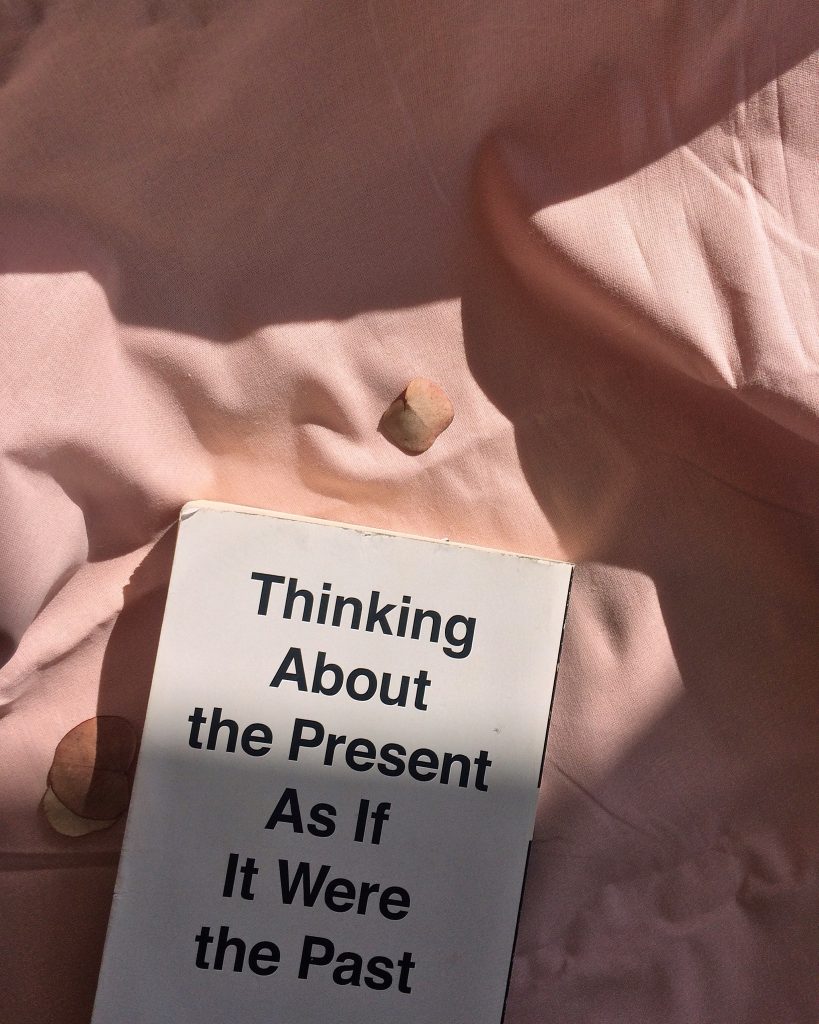 Five Best places for family outing near Bangalore.
Reading meaningful content that let's you be in the same row as the rest of the world is so important nowadays. Especially, when you have finished Netflix, Amazon Prime, and any other streaming apps which keep pushing movies and series to get you engaged on their platforms. Kids have very less in terms of going out right now unless it is safe for them or at least until their parents think it is safe for them to play outside.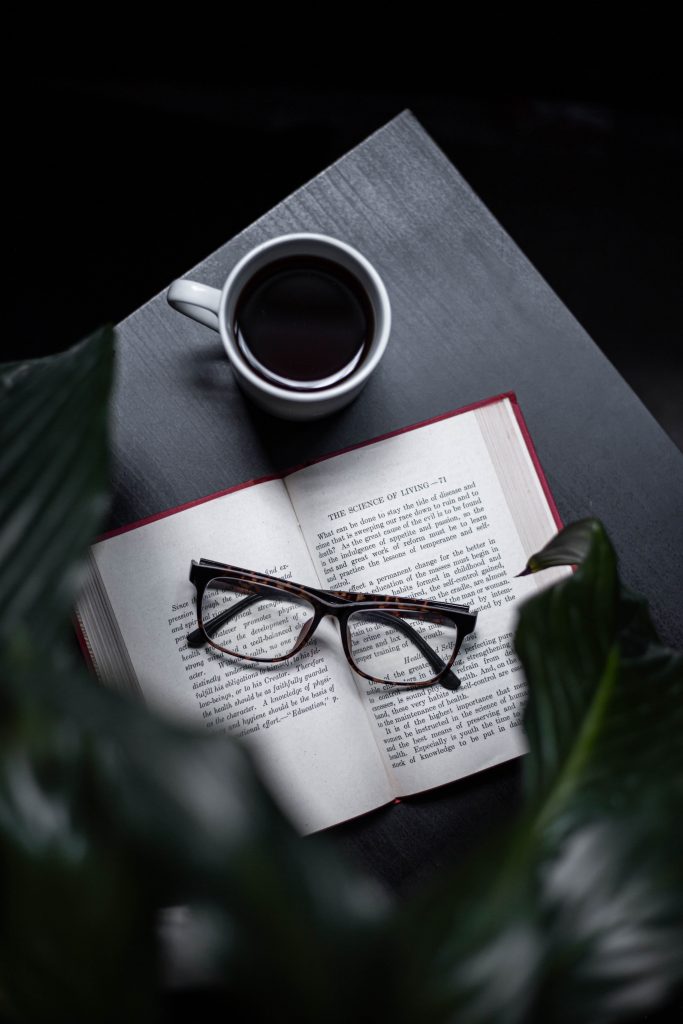 Family day outing in Bangalore indeed took the brunt most part of this year and children were on the forefront as during their growing years it is not only important but scientifically adviced that they need company of other children in order to grow, to better communicate, to build personality which stays with them for their rest of their lives.
Some parents prefer their kids start reading at a very young age so their kids' cognitive skills develop and grow with the help of books. As a way, they start reading stories to their children so when they are finally able to read, kids can pick books themselves instead of holding electronic gadgets for hours on end.
Most prefer their kids step out so they learn social skills early on in life. While some are inclined to take their kids wherever they go since their jobs requires them change cities or even countries in some professions.
Over the past few decades some good resorts in Bangalore have understood the need of their patrons to bring their children along every time they are attending a corporate day outing within 100 kms from Bangalore. So they can vibe with the new place and indulge in kid-specific activites within the property.
Spending time with family is important no matter how busy our schedule is and where in the world we are travelling to or the purpose of our travel. Resorts that hold corporate team outing in Bangalore are equipped with resources to provide family day outing experience just as profoundly.
Let's take a look at some decent resorts for family day outing near Bangalore.
The Gari Resort.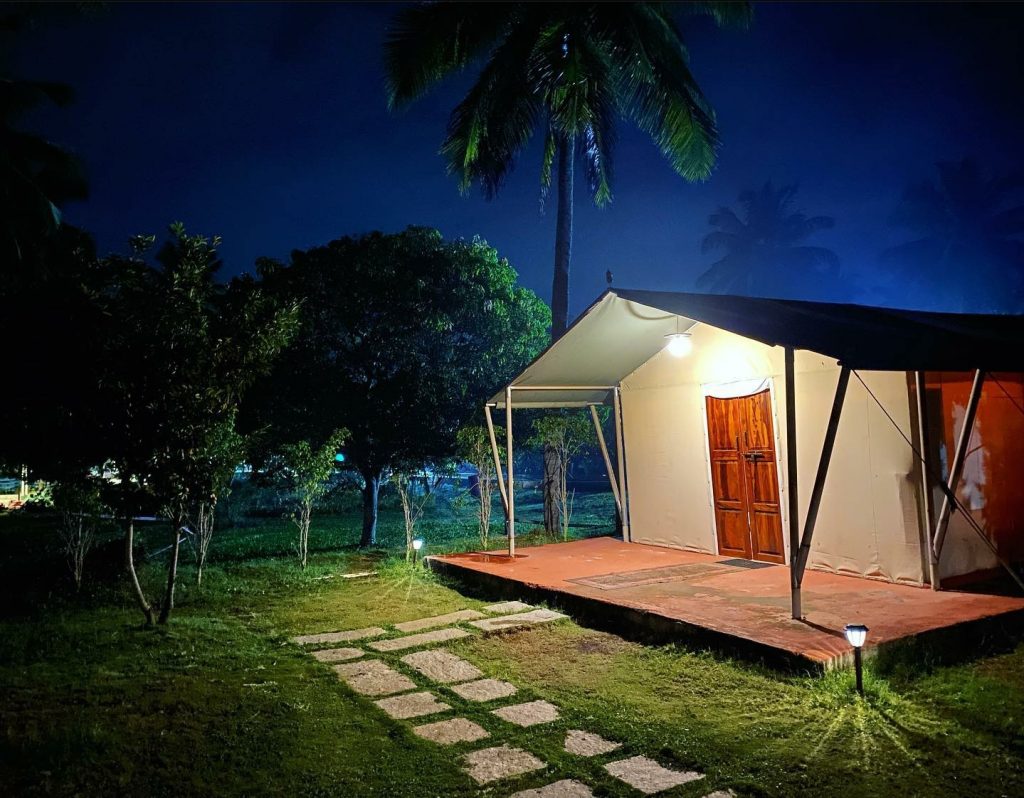 Gari Resort is a love at first sight. Its peerless design goes in perfect harmony with nature without compromising the natural estate.
An enormous place located in the lap of Southern Bangalore. Which, with its rich biodiversity makes your stay a better experience when it comes to family day outing on weekends or weddings in any season.
Gari Resort is a home away from home. A place that not only pours positivity in abundance but also refreshes you to a point where you are able to make wiser decisions when you get back among the urban crowd. The organic Google reviews of Gari speak for themselves.
It does not take more than one hour and fifteen minutes to drive to one of the decent resorts in Bangalore. They have the largest swimming pool for adults and spacious rooms where families can accommodate easily during a family day out. The property is kid-friendly and equipped with kids playing area allowing children to develop physical, social, and emotional skills by engaging in activities outside of their ability.
While children make merry in the playing area, you can jump in the swimming pool (make sure you have the costumes) and finish a few laps or take a walk in the fields and let the fresh breeze overwhelm you.
If you are an adrenaline junkie like me, buy coupons for activities and dive straight in to the adventure games to find a new side to yourself. A side where you are nervous like you were during your first interview which towards the end slowly opened up endless possibilities for you and took you on a path to self discovery. The path where you'd need more such thrills.
Also read: 10 team building activities for corporate employees.
Package details.
Luxury A/C suites
Price: Rs. 3024 per person (including tax)
Check in time: 01 pm
Check out time: 11 am
Price includes:

Lunch, Dinner, Breakfast.
Seven adventure activities
Six low rope activities
Archery
Camp fire
Magic and mind reading (happens only on weekends)
Flood light games (complimentary only between Monday and Thursday) otherwise Chargeable at Rs. 699 per hour.

10% discount if booked for more than 20 people.
Camping tents.
Price: Rs. 2128 per person (including tax)
Check in time: 01 pm
Check out time: 11 am
Price includes:

Magic, Pottery, and mind reading (happens only on weekends)
Flood light games (complimentary only between Monday and Thursday) otherwise Chargeable at Rs. 699 per hour.

10% discount if booked for more than 20 people.
For day out packages: click here
Activities in Gari.
Zip line
Pipe Bridge
Burma Bridge
Wood Cross
PG Ladder
Commander walk
Multi Vine
ATV Quad Bike Ride
Unstoppable Cross Bridge
Wood Cross
Single line Bridge
Burma Bucket
Triangle
Commando Work
Area 83.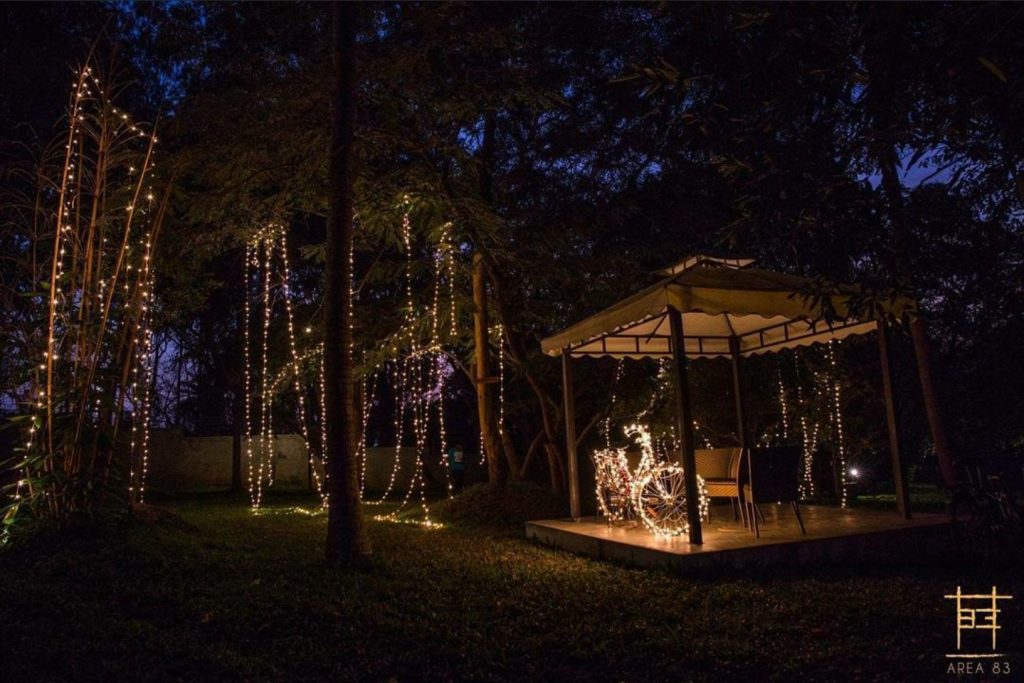 Address: Shanbhoganahalli Village Bannergatta South, Bangalore – 560083
This might sound a bit strange but Area 83 is not at all out of a Hollywood thriller flick. It is straight up one of the most thrilling resorts in Bangalore so far.
83 is not a homage to the world cup where India devastes Indies to win the title for the first time. Nor is it named after the movie that is made on the incident. Although it would be interesting to know if it were the case.
In reality, the thought behind the name is even more interesting and thoughtful. It is a pin code of the area it is located in. People carry on the age old family names, their God's names but once in a while a creative mind emerges from the gold dust and choses to do something like that. Some activities are as follows:
Activities in Area83.
Team Adventure Games.

Archery TagPaintball
Bubble Soccer
Human Foosbal
Extreme Adventure
Rocket Ejector (Weight restriction of Max 70 Kgs)
Sky Swing
Giant Swing
Water Based Adventure

Activities
Kayaking
Water Cycles
Boating
Yoga Session
Meditation (Mindfulness)
Nature trail with Safari
Lake Side Barbeque Dinner (minimum 20 people required)
Motivational Session

Camping
Bon Fire
A/c Party Hall / Multi Day
Conference Facility
Ergonomics Sessions.
In case your family consists of kids, take them to Area83 to witness the animals in the badlands. The kids may have watched animals in cartoons or in the form of toys. They will love the jungle Safari for sure, from the safety of the distance and with professionals by their side.
Those who don't wish to travel as far as Kerala to take their kids boating in back waters, can visit this place as they have their own water body where you can try Kayaking and Boating.
From organising weddings and corporate events to arranging jungle Safaris and giving access to photography nerds to capture animals in their natural habitat, Area 83 is slowly becoming the talk of the town.
Note: All the recreational activities are performed under strict Covid-19 guidance and in attendance of trained professionals who are specifically hired to make the activities a safe experience.
Holiday Village.
Address: #35, 9th Mile, Vajrahalli Village, Kanakapura Road, Bangalore – 560062
A perfect place to hang out with your family due to its fertility and closeness to nature. As you walk around the resort you will observe outcropped foliage and tall trees shading you from the hot sun light.
The property is undoubtedly surrounded with thick vegetation and also indulges into a myriad of activities for families to make their visit worthwhile. But their strong suit is their food and the price it is sold at.
Holiday Village consists of well designed rooms, keeping in mind the variety of travellers it attracts. If you are a single traveller on a business trip or even travelling solo, the options available for you will not burn a hole in your pocket. It is known to be among budget resorts in Bangalore for family outing.
To know the price of their accommodation, click here.
Note: Following the instructions from the government to minimise the risk of virus transmission, access to swimming pool and other activities are currently restricted in Holiday Village.
Club Cabana Resort.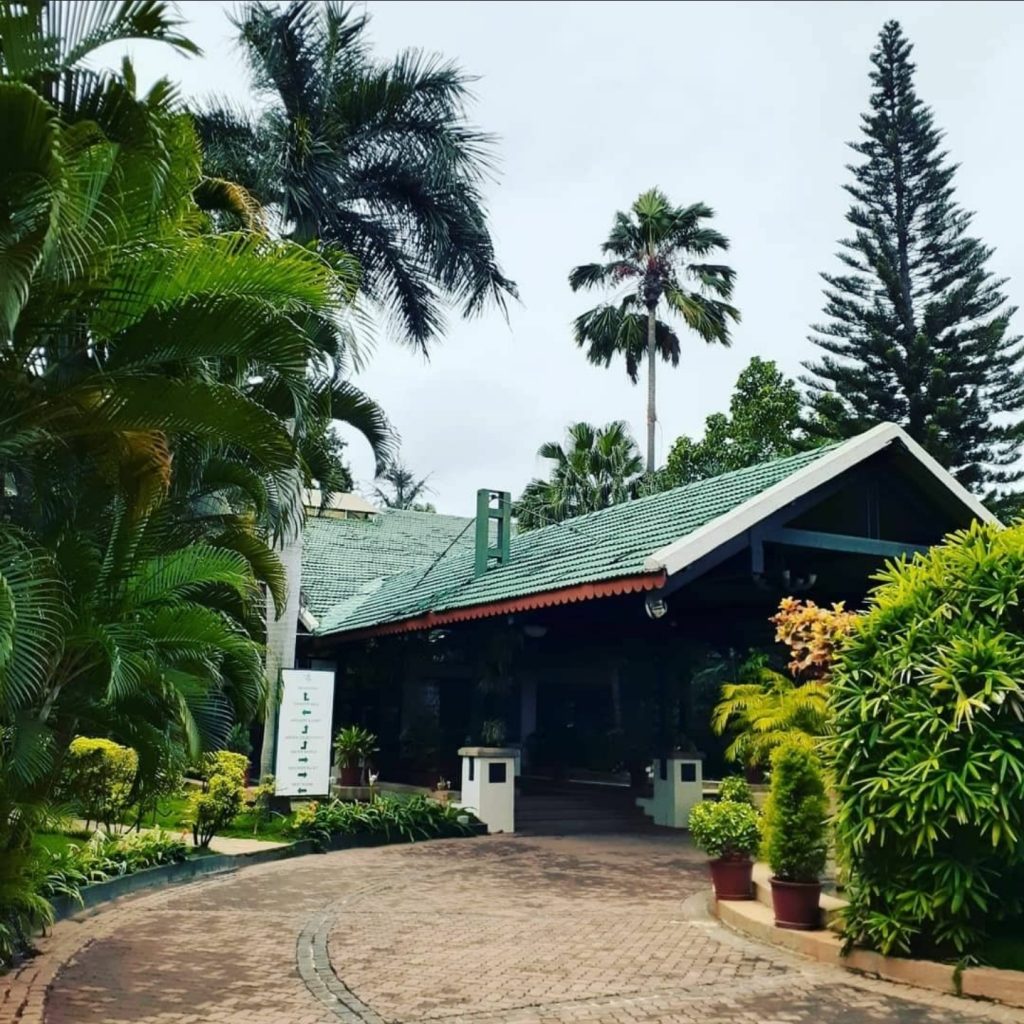 Address: No. 206, Utopia Layout, Tharabanahalli, Bengaluru, Karnataka 562157
Club Cabana instinctively lights up your mood with the presence of fresh air due to 100s of plants and trees within the property. Although it does not have accommodation facilities, it still is worth visiting for children's sake.
Besides the amazing staff service and food, Club Cabana has a potential to make each moment memorable with its eye catching amusement park.
When you have kids, you realise their love for water and everything related to it. It takes you back to a time when you were a kid but all we had were lakes and dirty water bodies where we dipped as kids – only during monsoon.
Amusement parks are cleaner, entertaining, and lets kids wreak havoc within all the safety. You also realise as a kid your affection towards water and don't mind becoming child-like for a day.
It is spread across a huge landscape with water activities, making it children's favourite. Parents who wants their kids to learn swimming can make use of the lazy river.
Facilities in Club Cabana.
Wave Pool
Three twisting water slides
Lazy River
Jacuzzi
Carrom
Basketball
Badminton
Table Tennis
Snooker
Restaurant
Amphitheatre
Additional Paid activities

Paint ball (Only for 12yrs and above: Rs. 250.
Bowling: Rs.200.
Archery: Rs.85.
Net-Cricket: Rs.85.

Target shoot (Only for above 5 yrs)
Note: All the activities are exclusive of 18% GST.
Silver Oak Resort.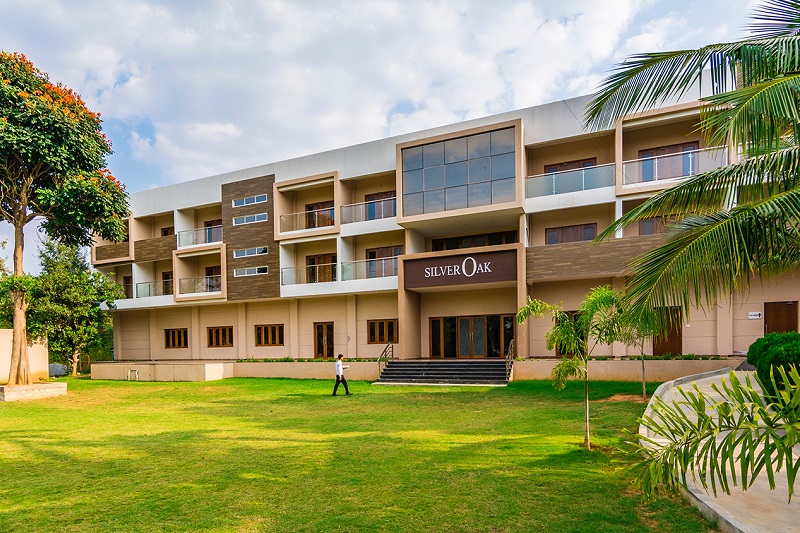 Address: Silver Oak Hermitage Pvt Ltd. Bangalore-Doddaballapur Road, Rajankunte. Bengaluru – 560 064.
Silver Oak Resort is a class of its own. It harnesses modern day amenities while making a conscious effort to conserve the natural state of the area. Travellers like to visit places that are one with nature, not the man made flora and fauna but places that keep the forestation well preserved.
Families prefer visiting resorts that are close to nature and away from the maddening crowd of the city. Places that help connect with their children through activites suitable for themselves. Silver Oak gives exactly what parents and children need. Time to bond, play and learn various indoor and outdoor sports which wouldn't be possible in a complex or a building set up.
They have a dainty dining area inside the property by the name The Palms, and a tranquil cafe, Hibiscus for the coffee lovers. And for people who love to chug a drink or two, there's Cyprus Bar. Their major and famous activity is a squash court which is not found in most family Resorts near Bangalore.
Facilities in Silver Oak.
Badminton
Children's play area
Joggers park
Volleyball
Billiards
Gym
Table Tennis
Accommodation options in Silver Oak.
Cottages:

Single Occupancy: Rs. 6,000
Double Occupancy: Rs. 7,000
Triple Occupancy: Rs. 8,000
Service charges plus GST will be charged extra.
Premium Rooms:

Single Occupancy: Rs. 5,000
Double Occupancy: Rs. 6,000
Triple Occupancy: Rs. 7,000
Tranquil Woods Resort.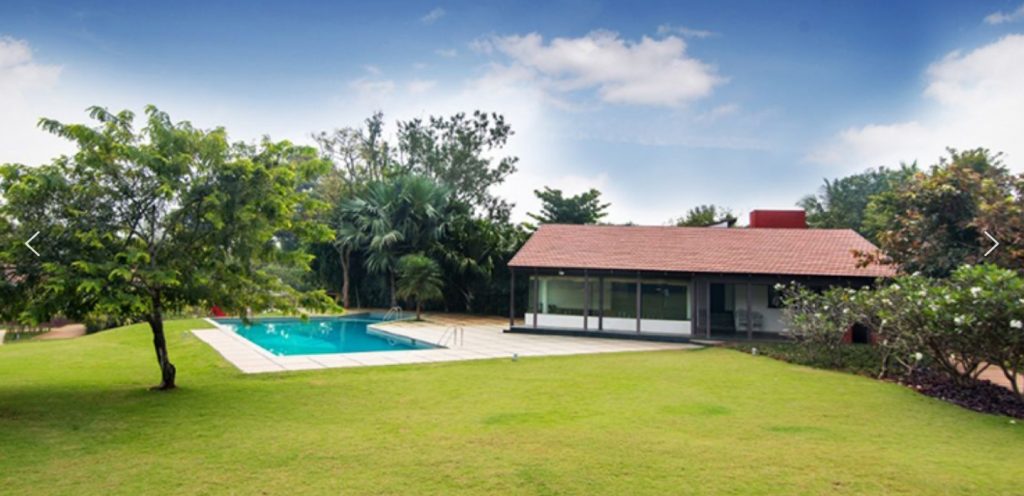 Address: Kanakapura Road, Badamanavarathekaval. Bangalore – 560082
Tranquil Woods is where you take your family to celebrate a festival or a special occasion like your anniversary or your spouse's or kid's birthday. This place is developed, designed, and meant to create special moments and bring all your plans to fruition – and how!
There's no doubt that they got the nature and luxury in harmony to make your stay as memorable as possible, but what they have also nailed with their profound understanding of the needs of the masses is the quality of experience with each step you take inside the property or every nibble you have of the most interesting food.
It also has a 5000 square feet lawn area to host an upclass wedding reception of at least 1000 people along with serving food and providing other basic amenities. Coming with your family is recommended for a long lasting experience but in case you are looking for a great resort near Bangalore for corporate event then this the place to go for if your employees has a budget.
Activities in Tranquil Wood.
Indoor activities:

Pictionary
Jenga
Monopoly
Chess
Housie
Scrabble
Uno
Darts and other Board Games
Outdoor Activities:

Badminton
Football
Volleyball
Archery
Frisbee
Kids Play Area
Important: To book your stay, click here.
Fortunately or unfortunately, some of the most awe-inspiring resorts in Bangalore never make it to our Google search results page. Therefore, we end missing some of the best resorts near Bangalore.
Some places are adjacent to national parks, while some resorts house wellness and Yoga centres along with water activities and personality development workshops for corporate employees. The services are endless, all we need is to pick the ones that we need the most at the time.
We tried to hand pick the resorts that you might miss due to Google algorithm, for you and your family's stay.
If you like what you read, please consider subscribing to our blog posts by entering your email address below.

We promise not to spam!